Shop from our range of collections! Worldwide shipping 🌎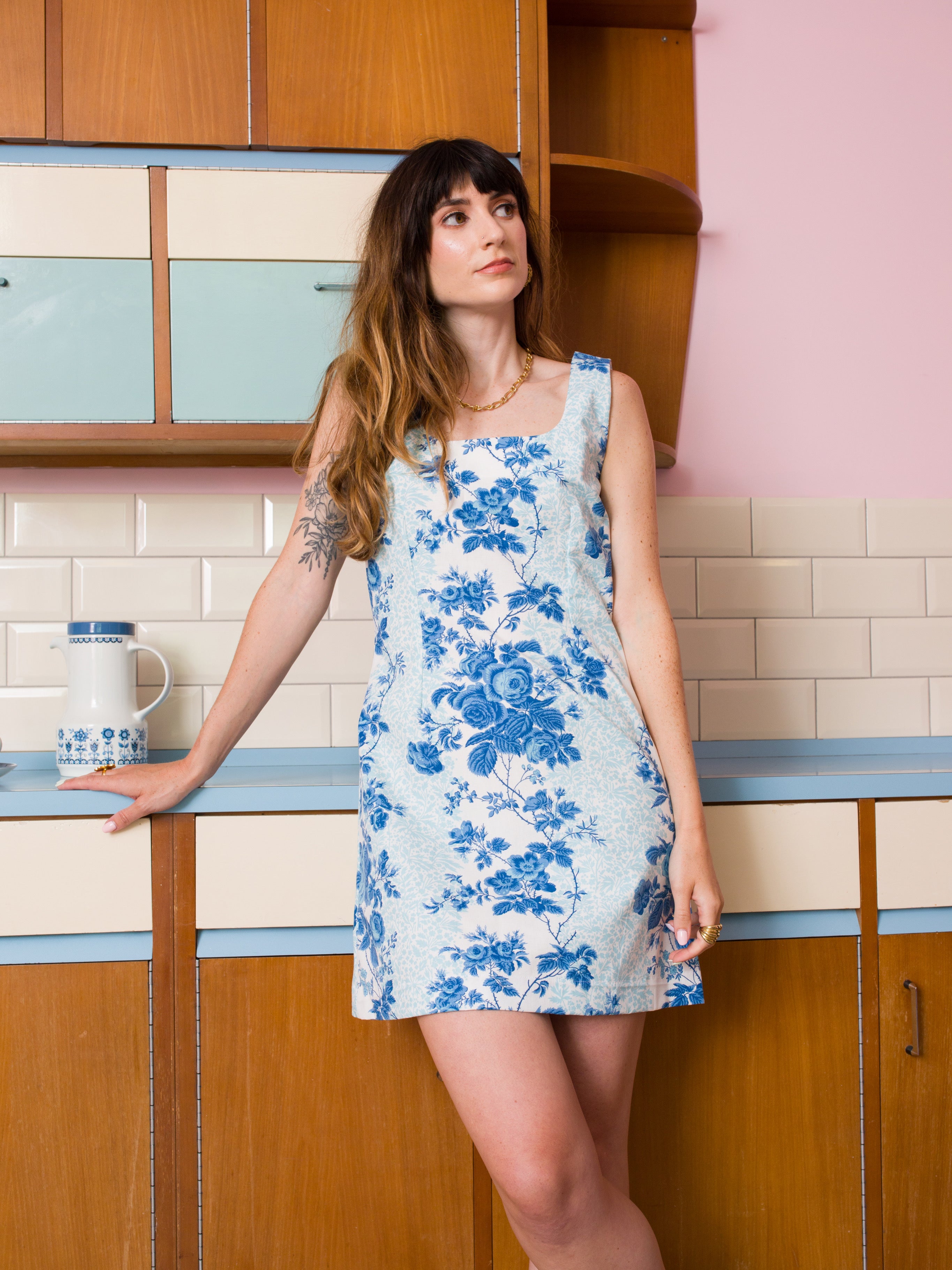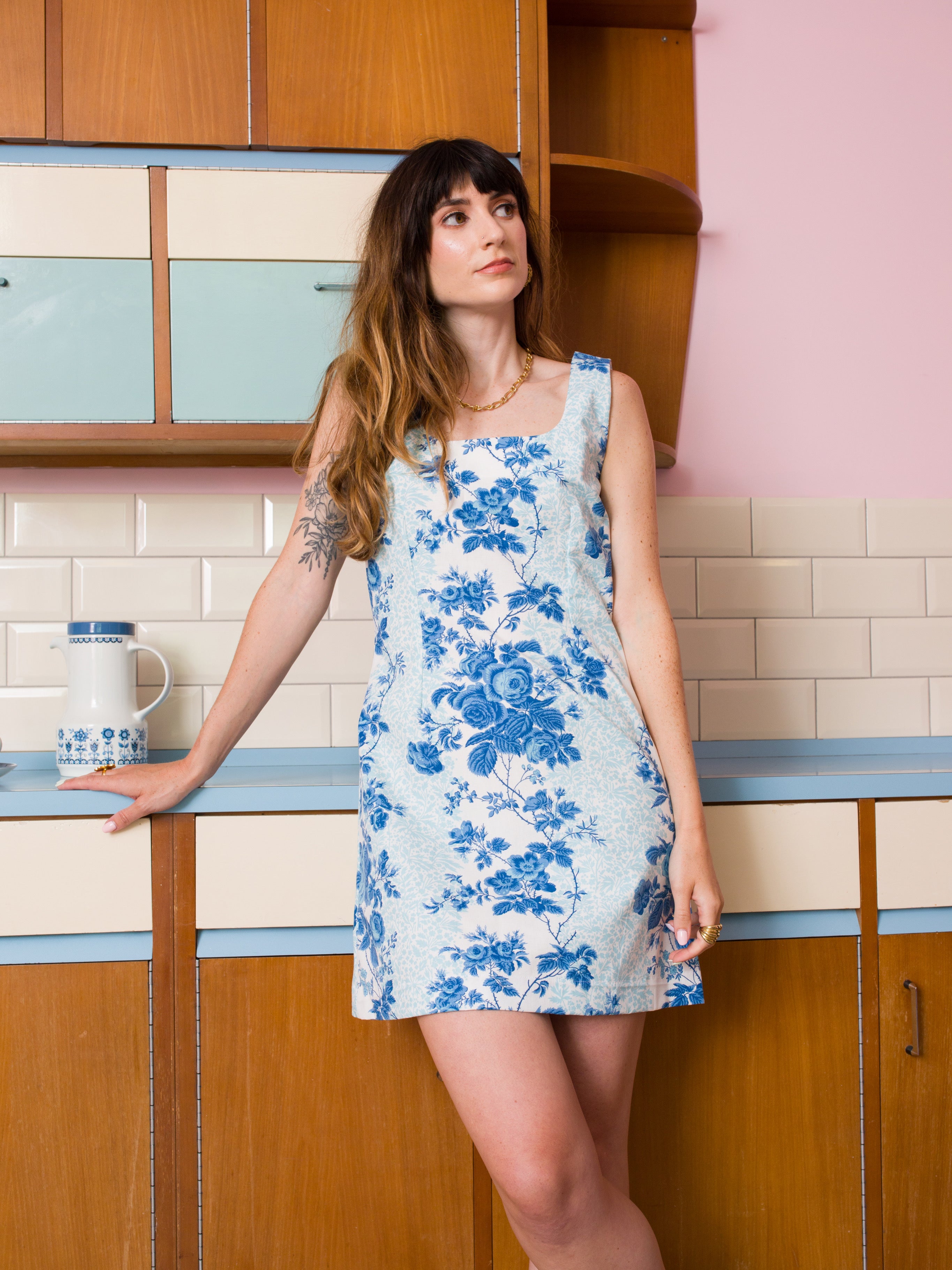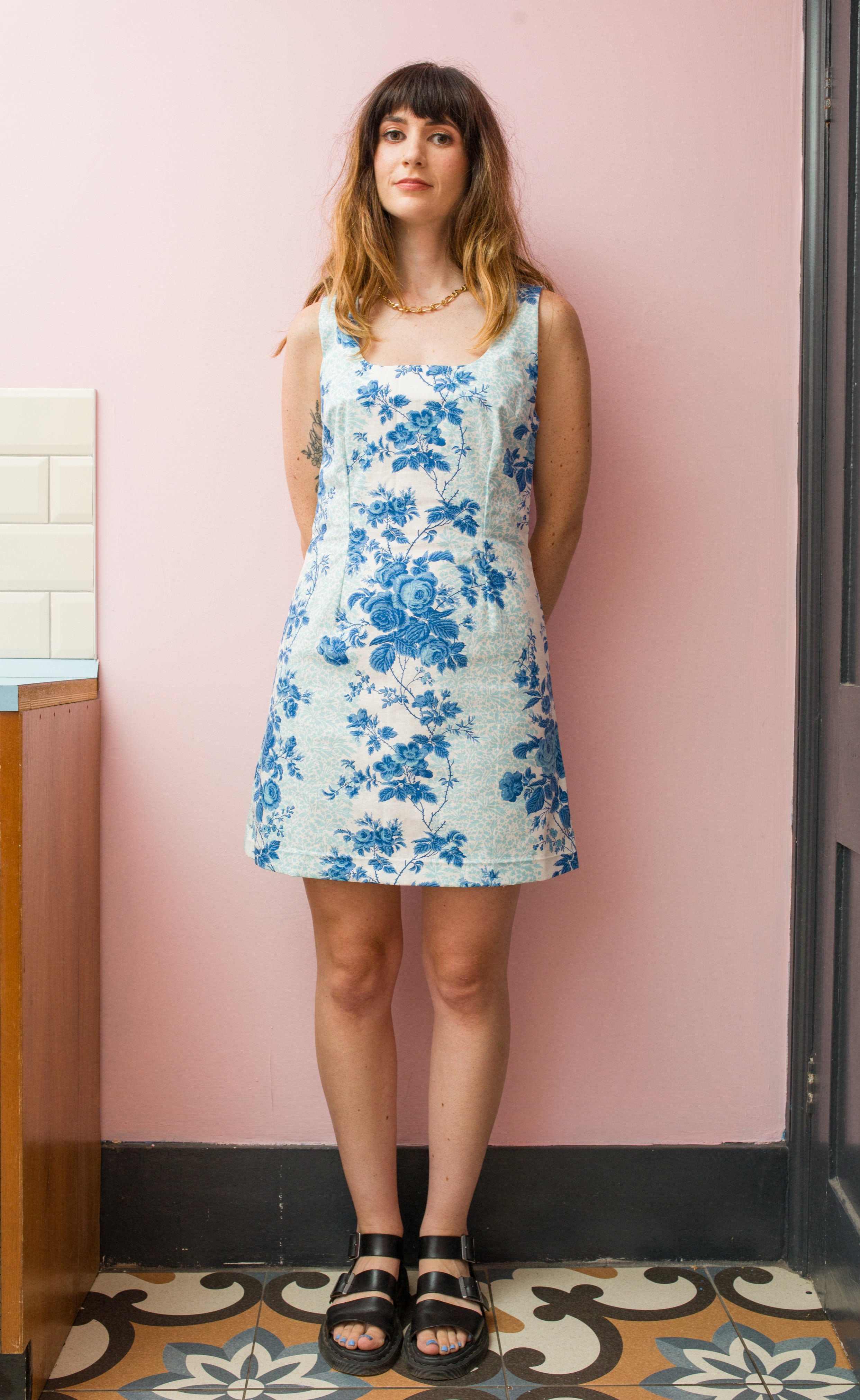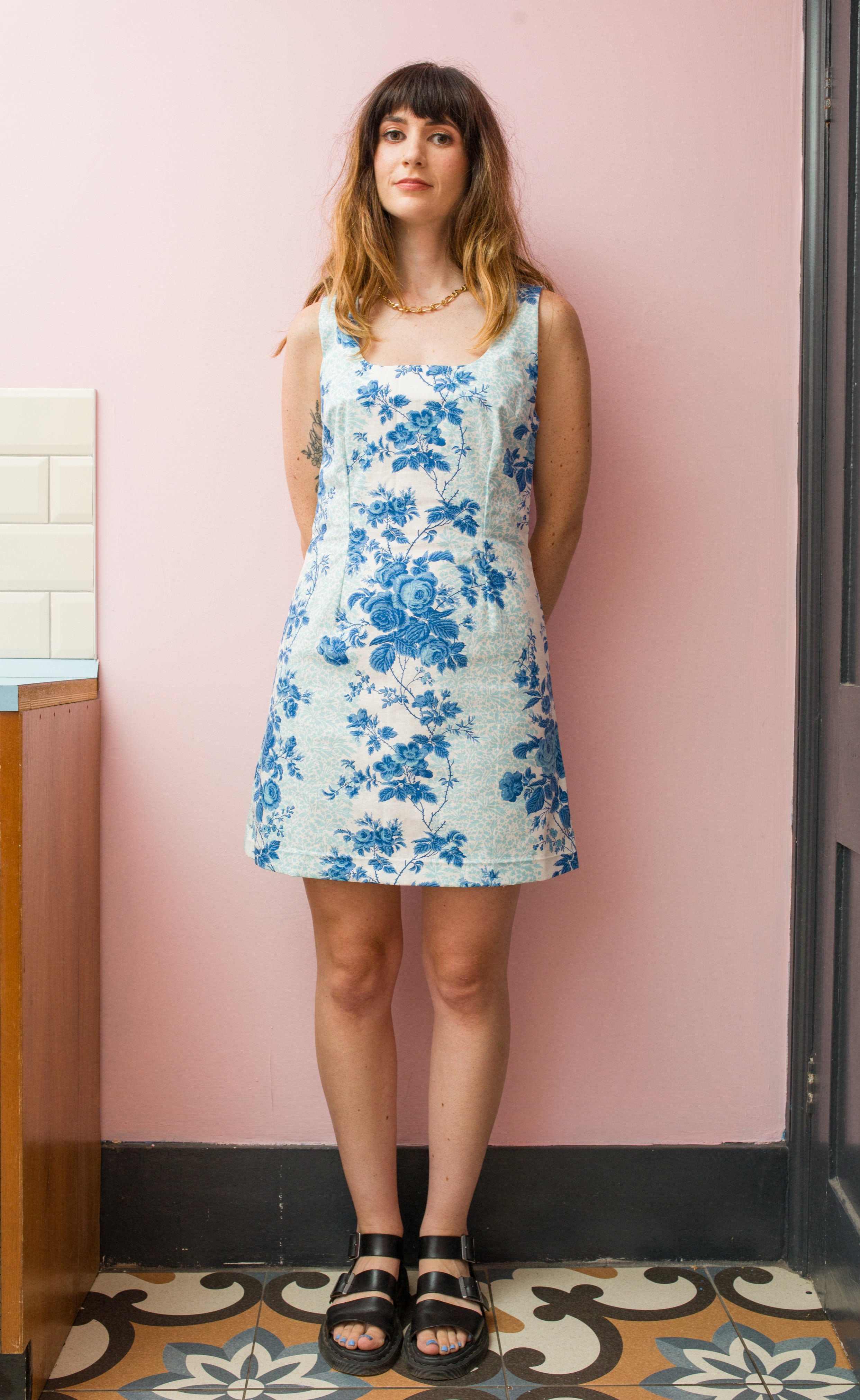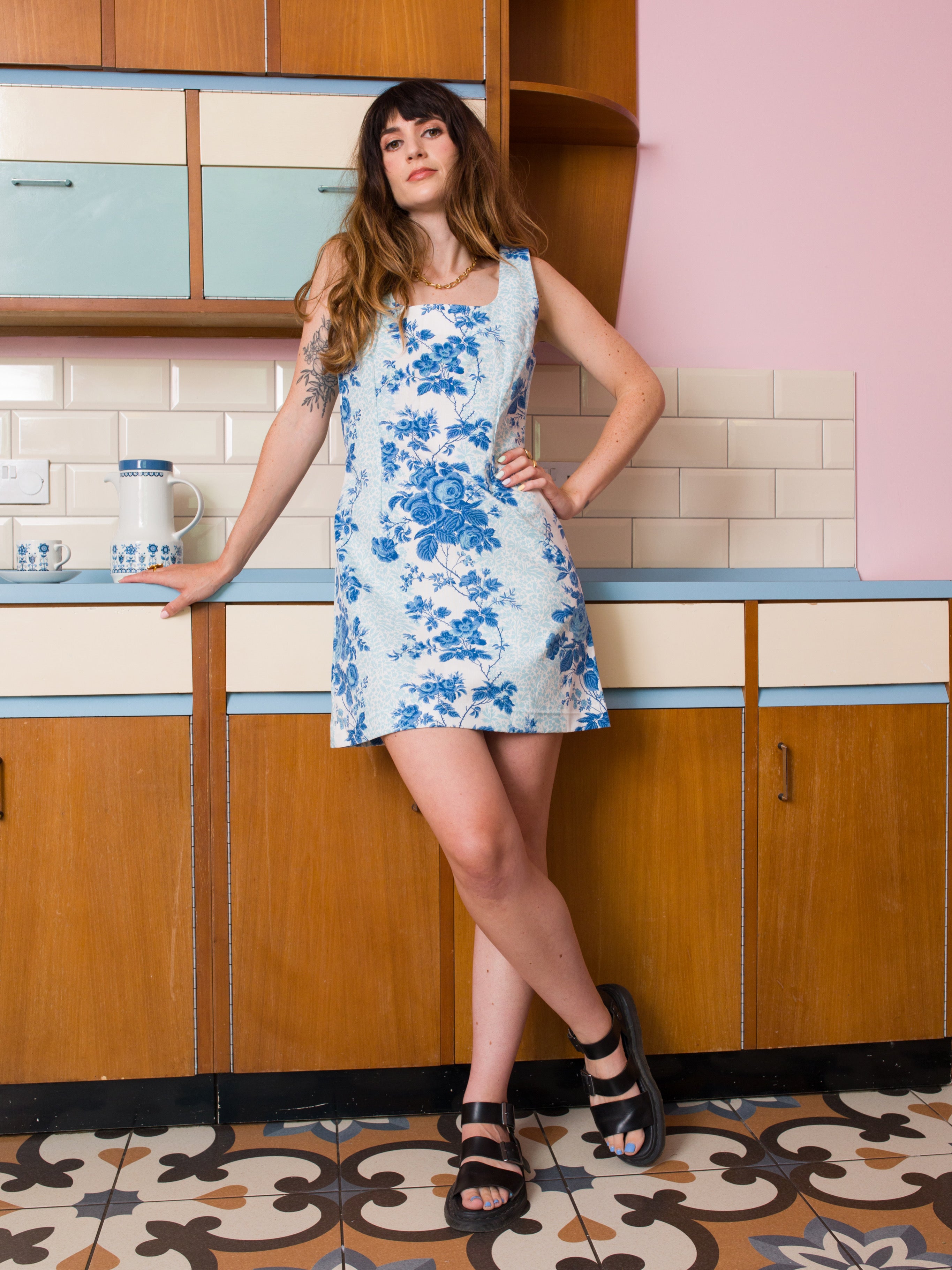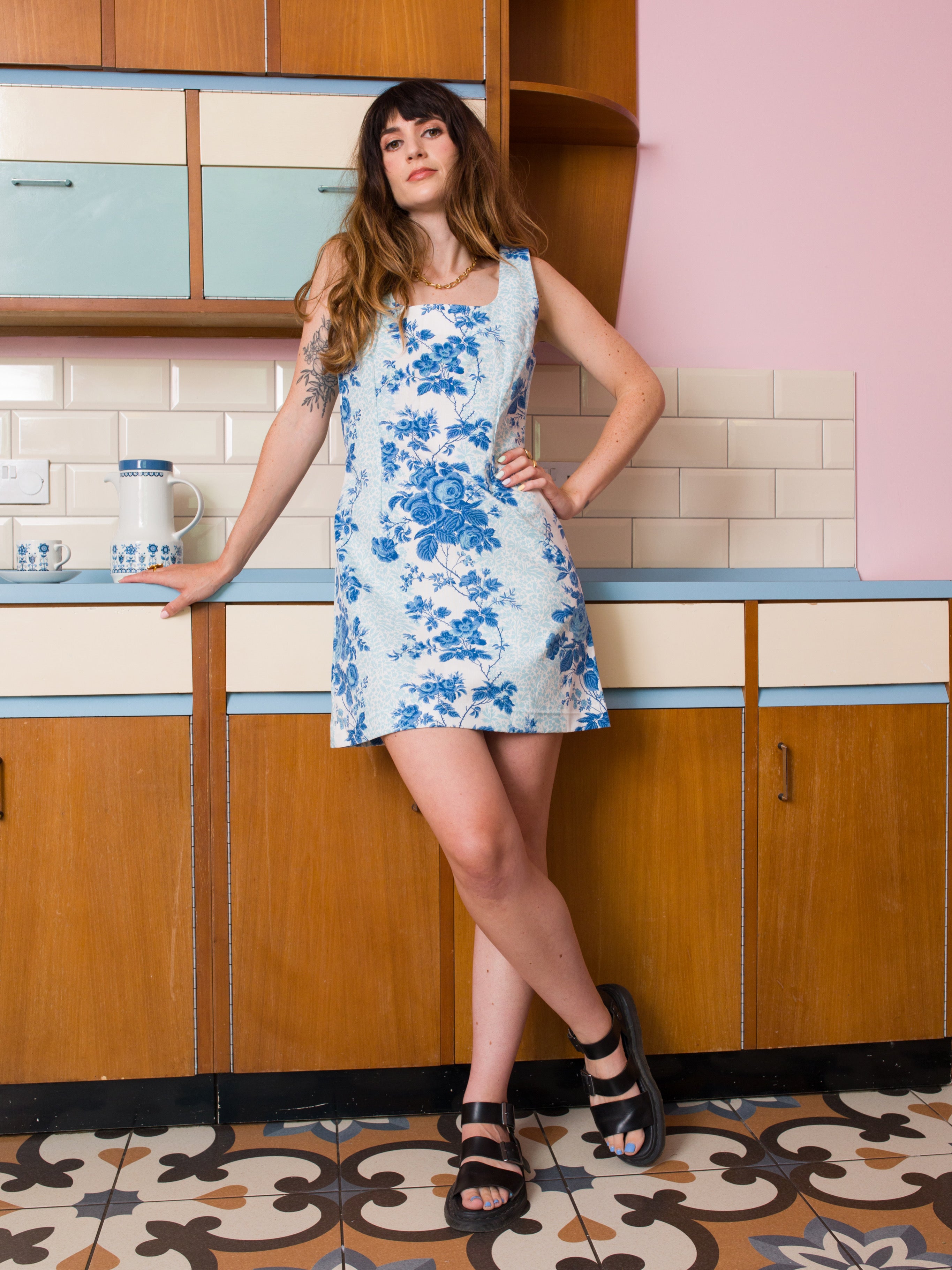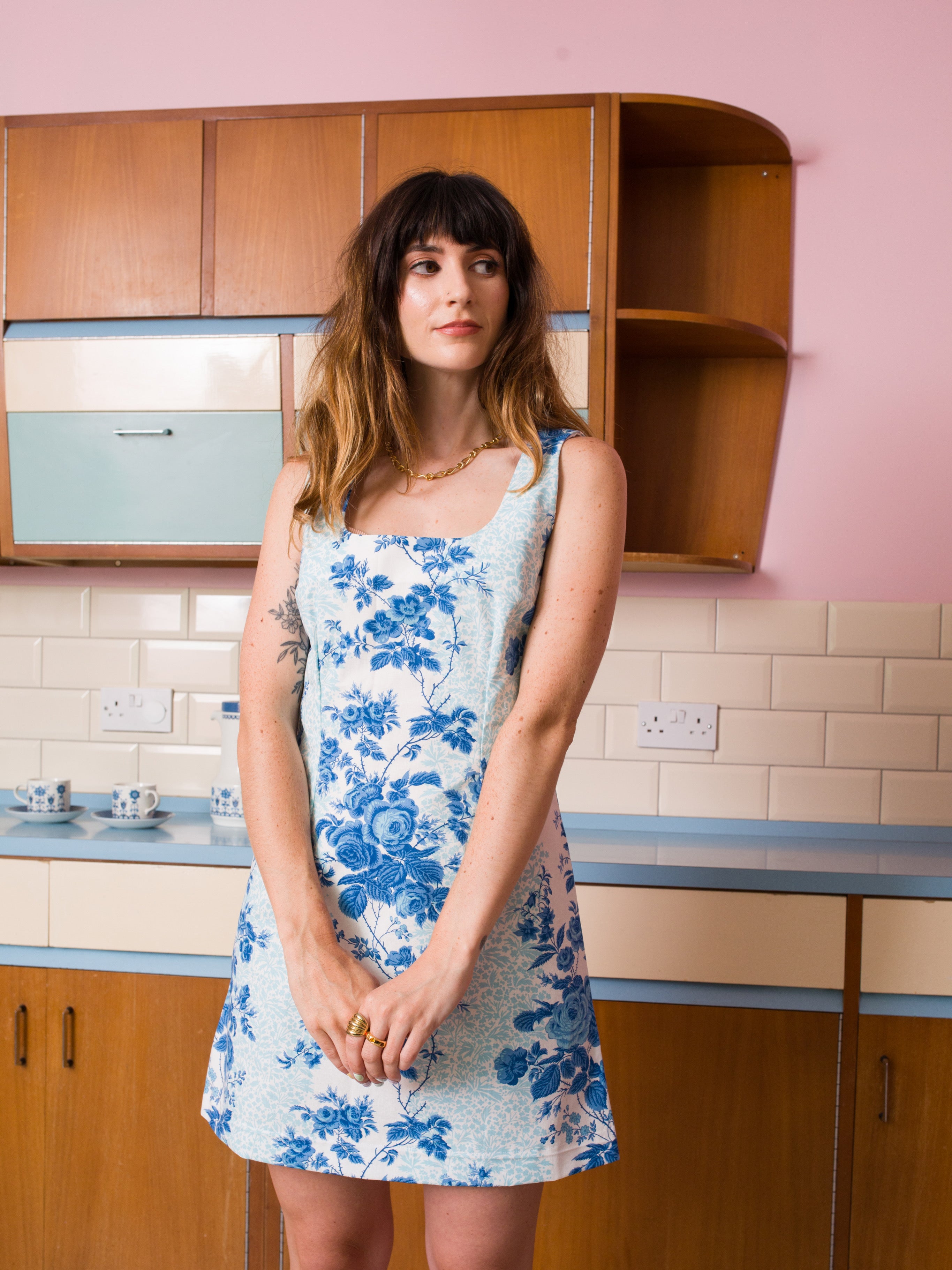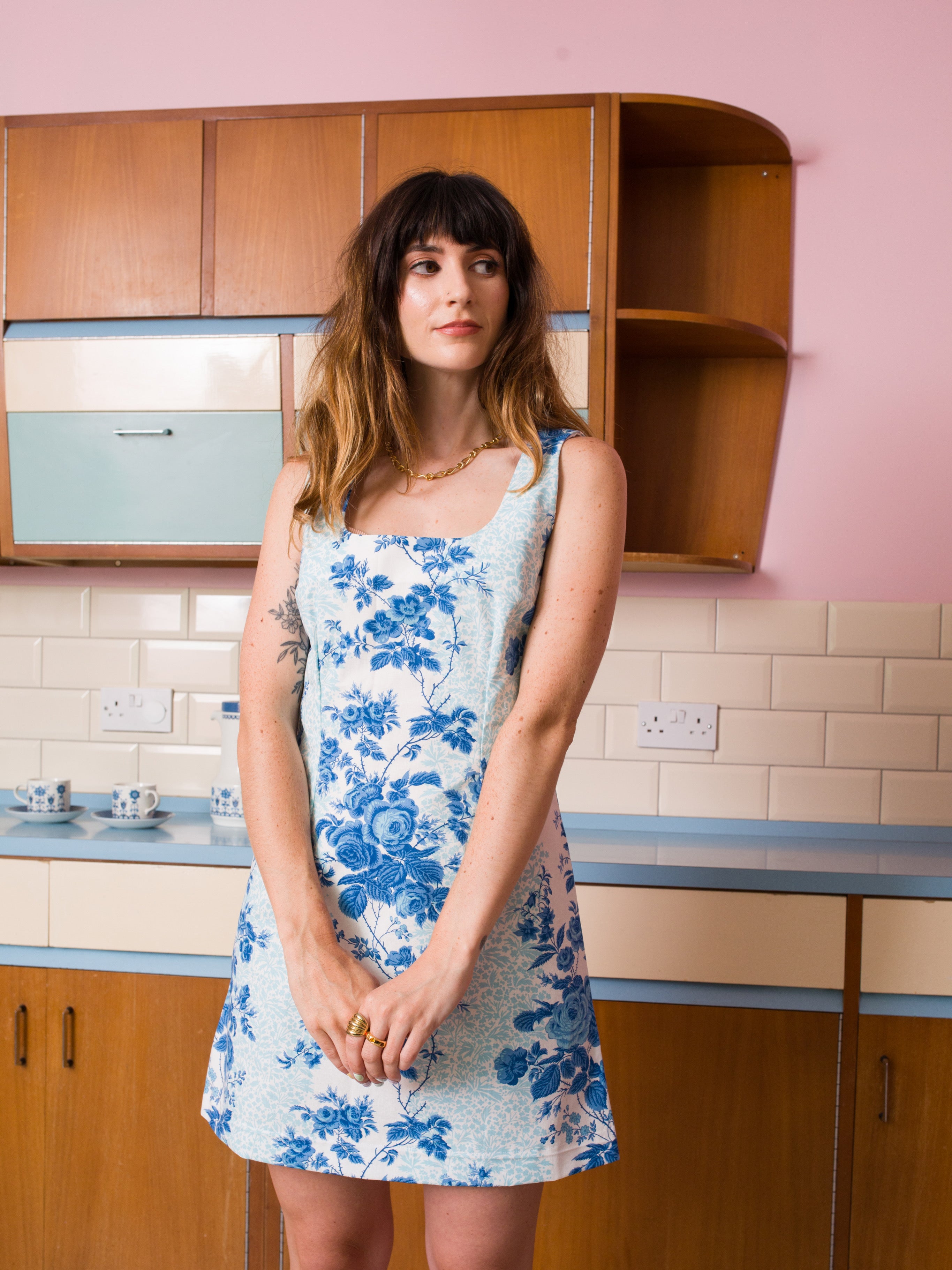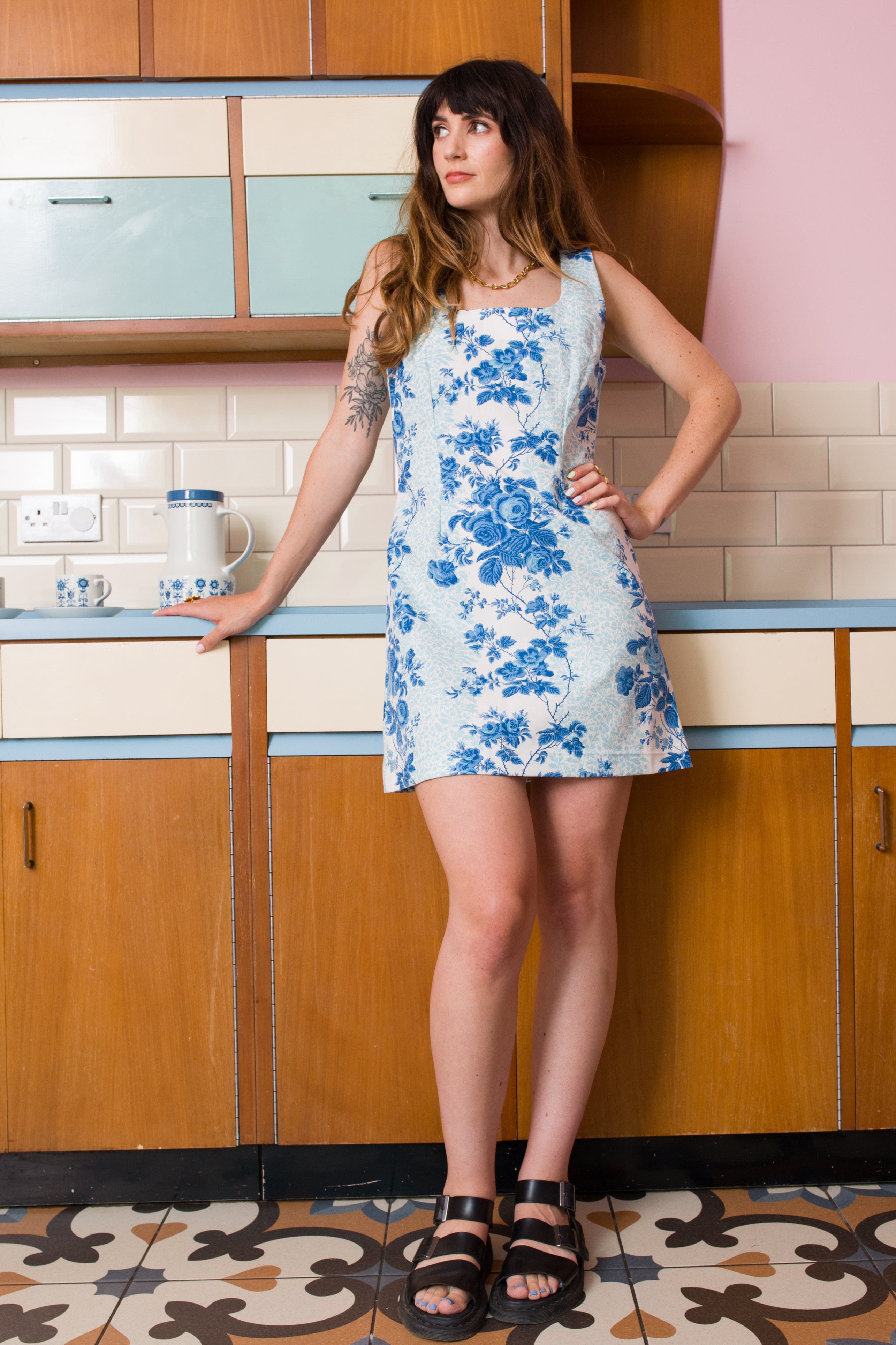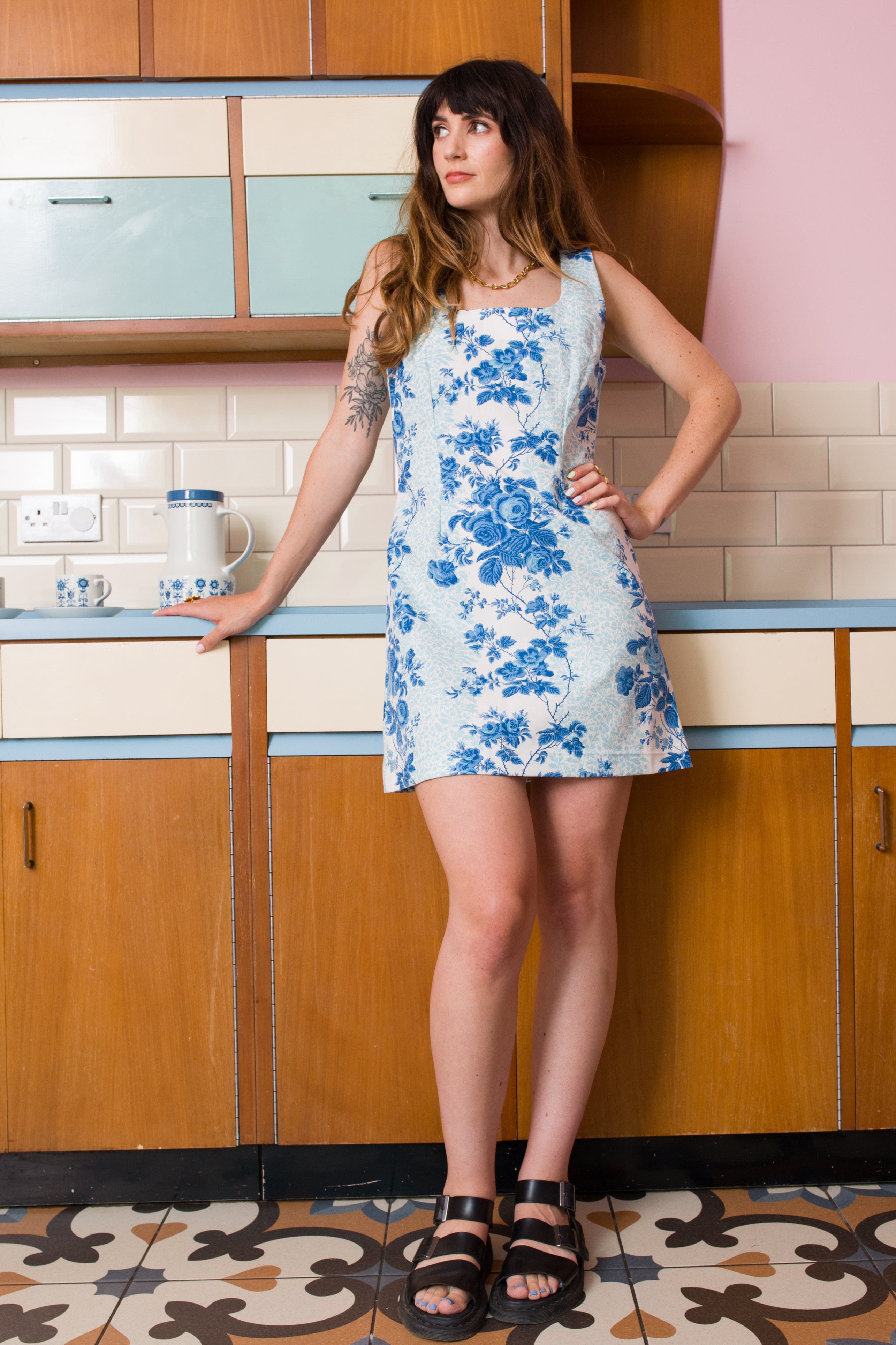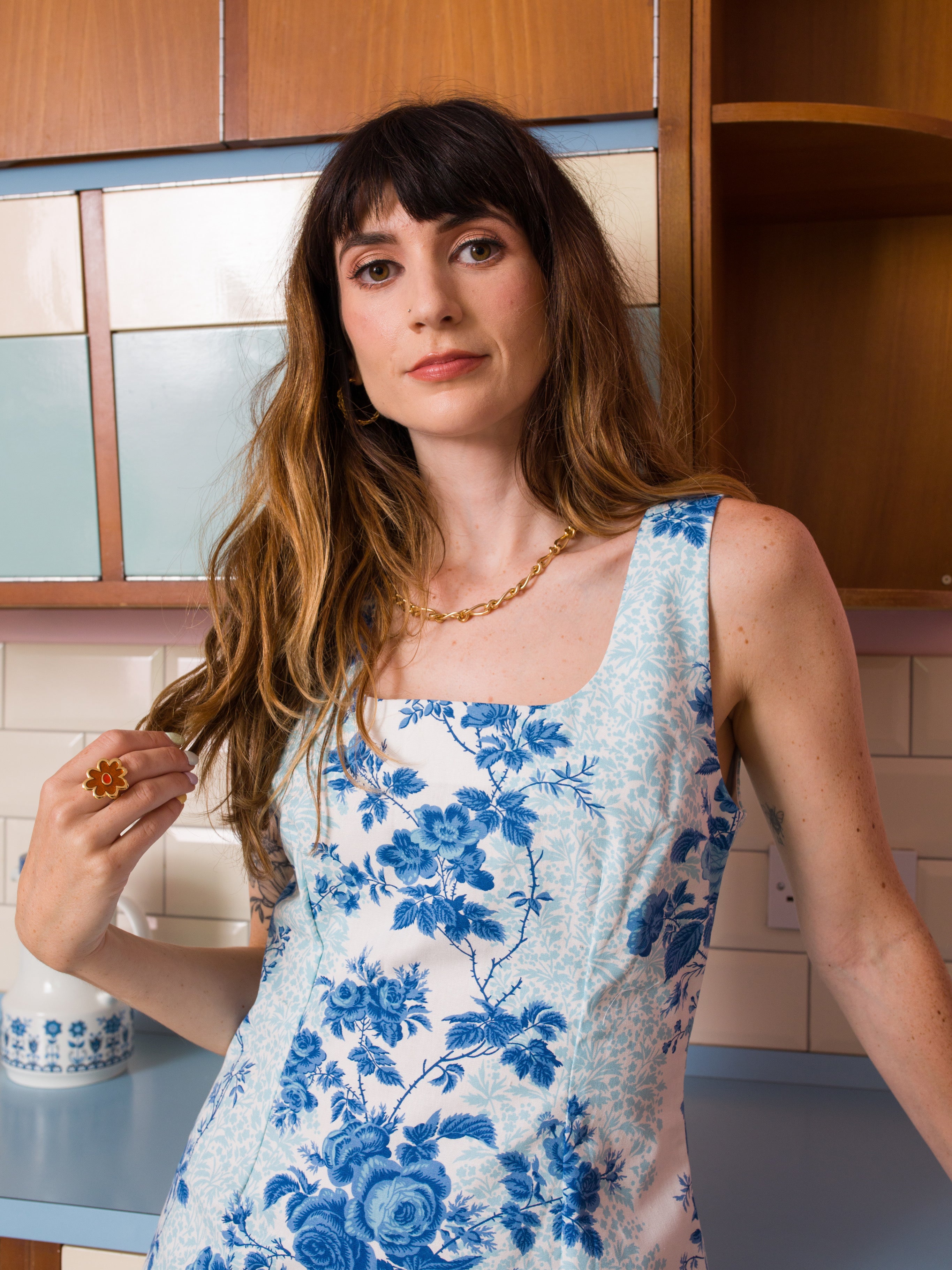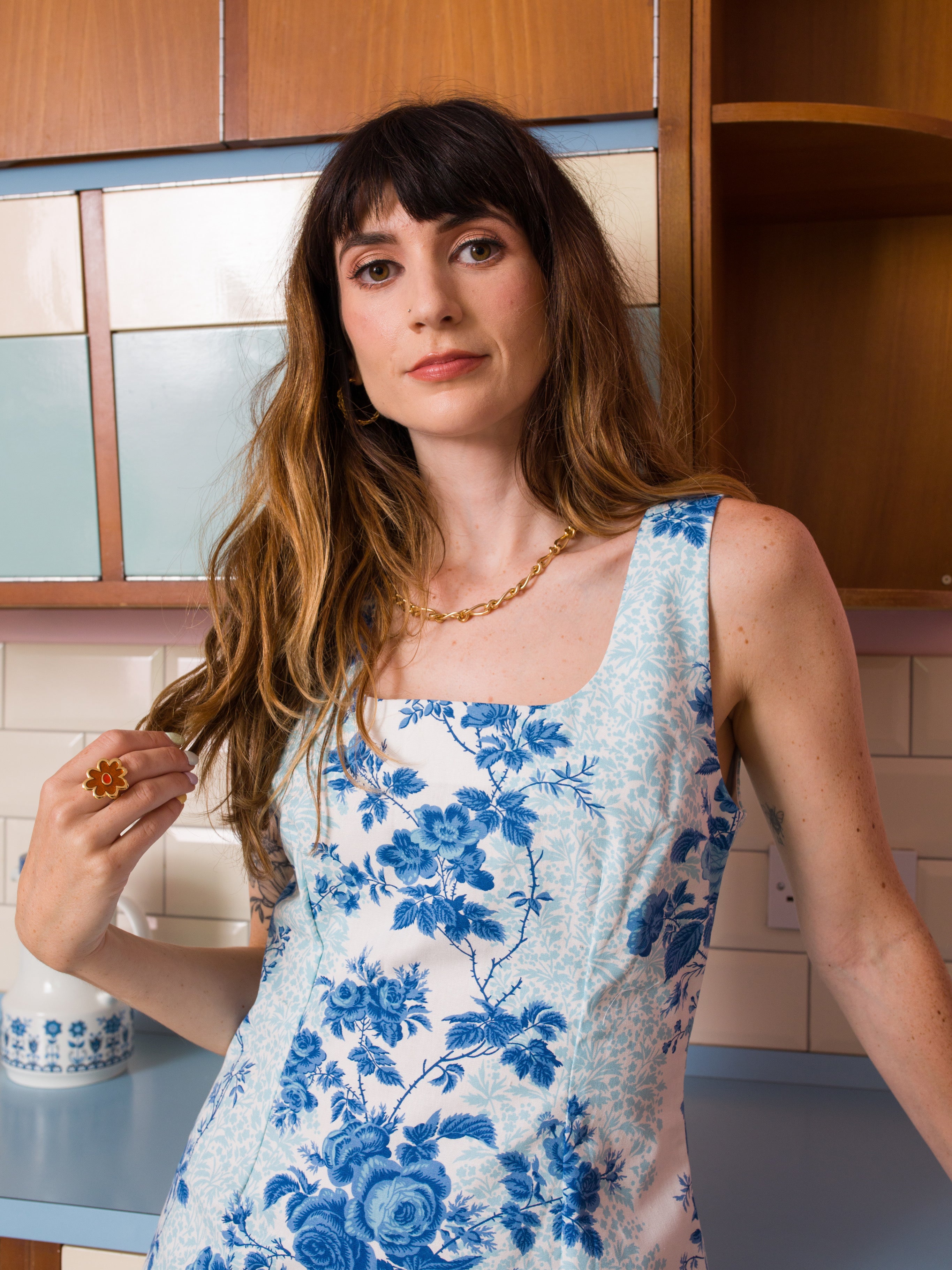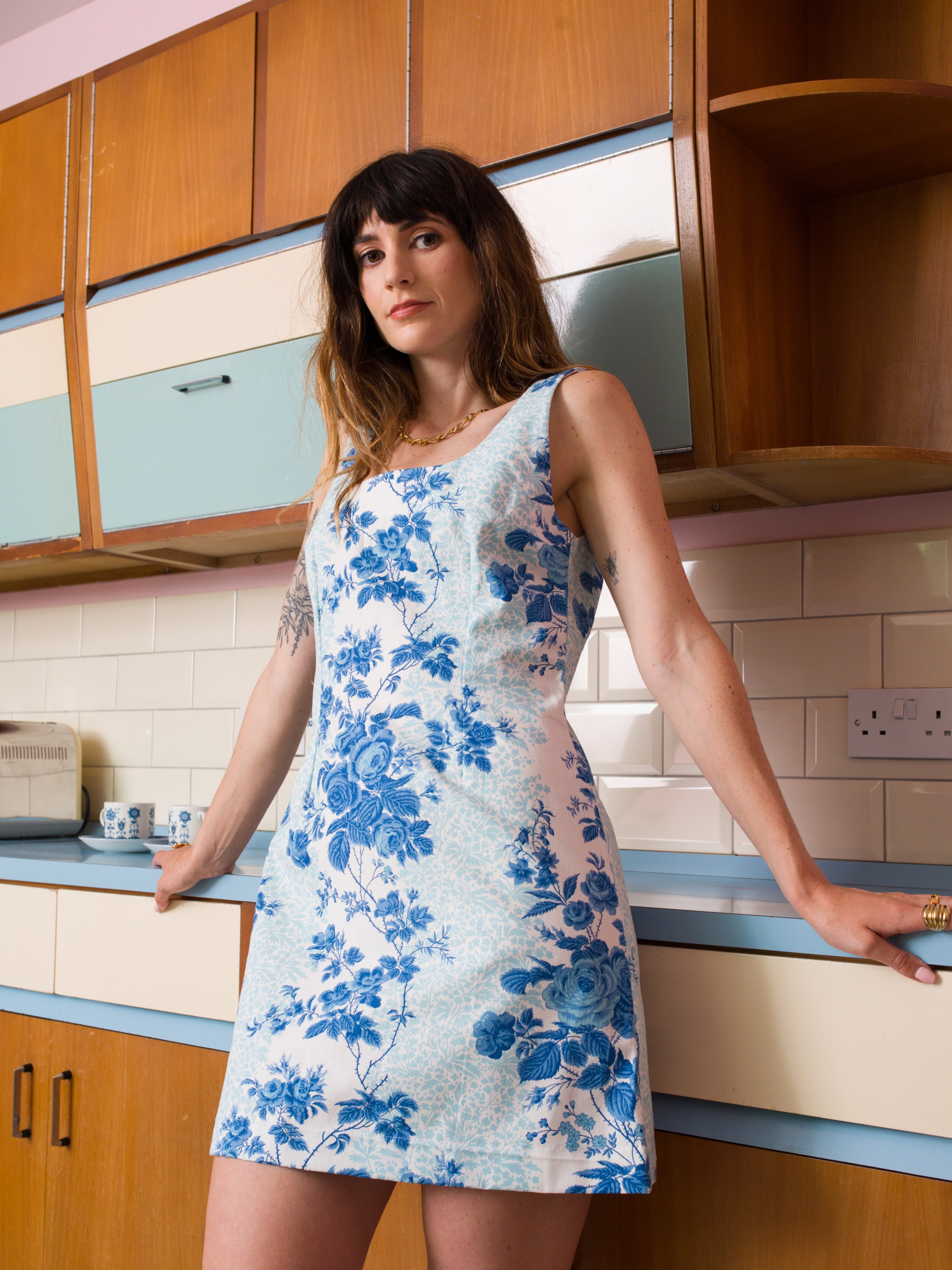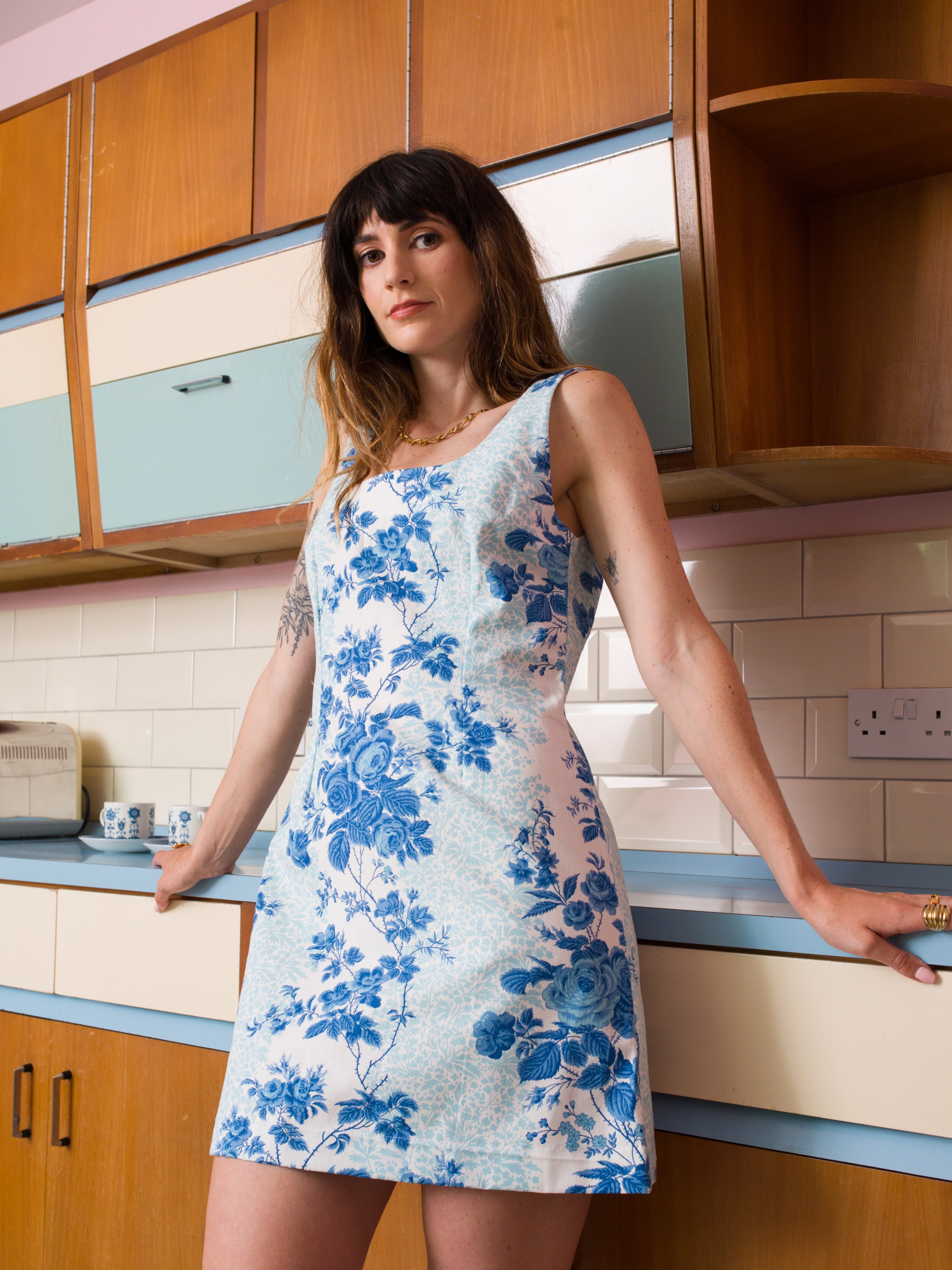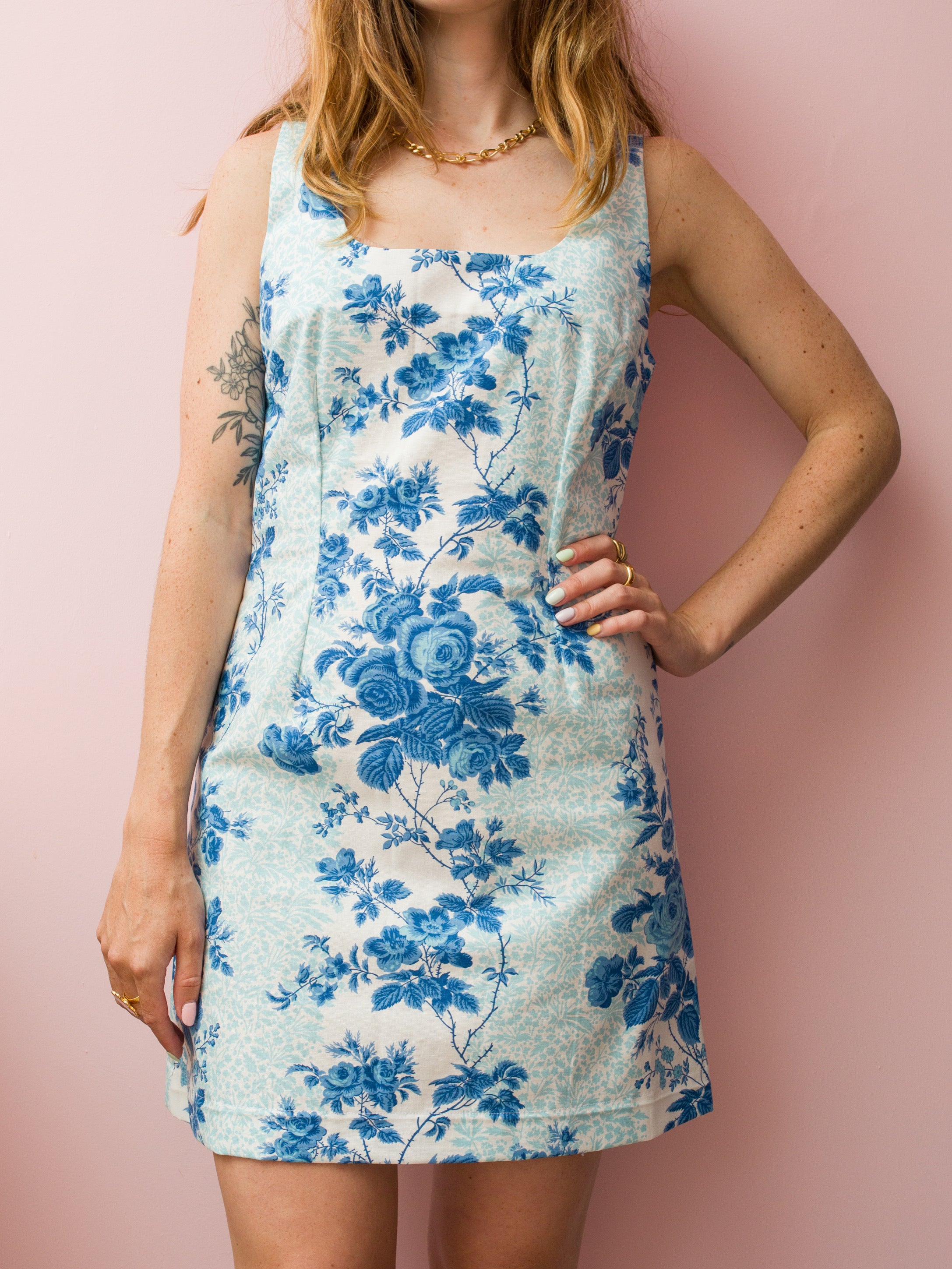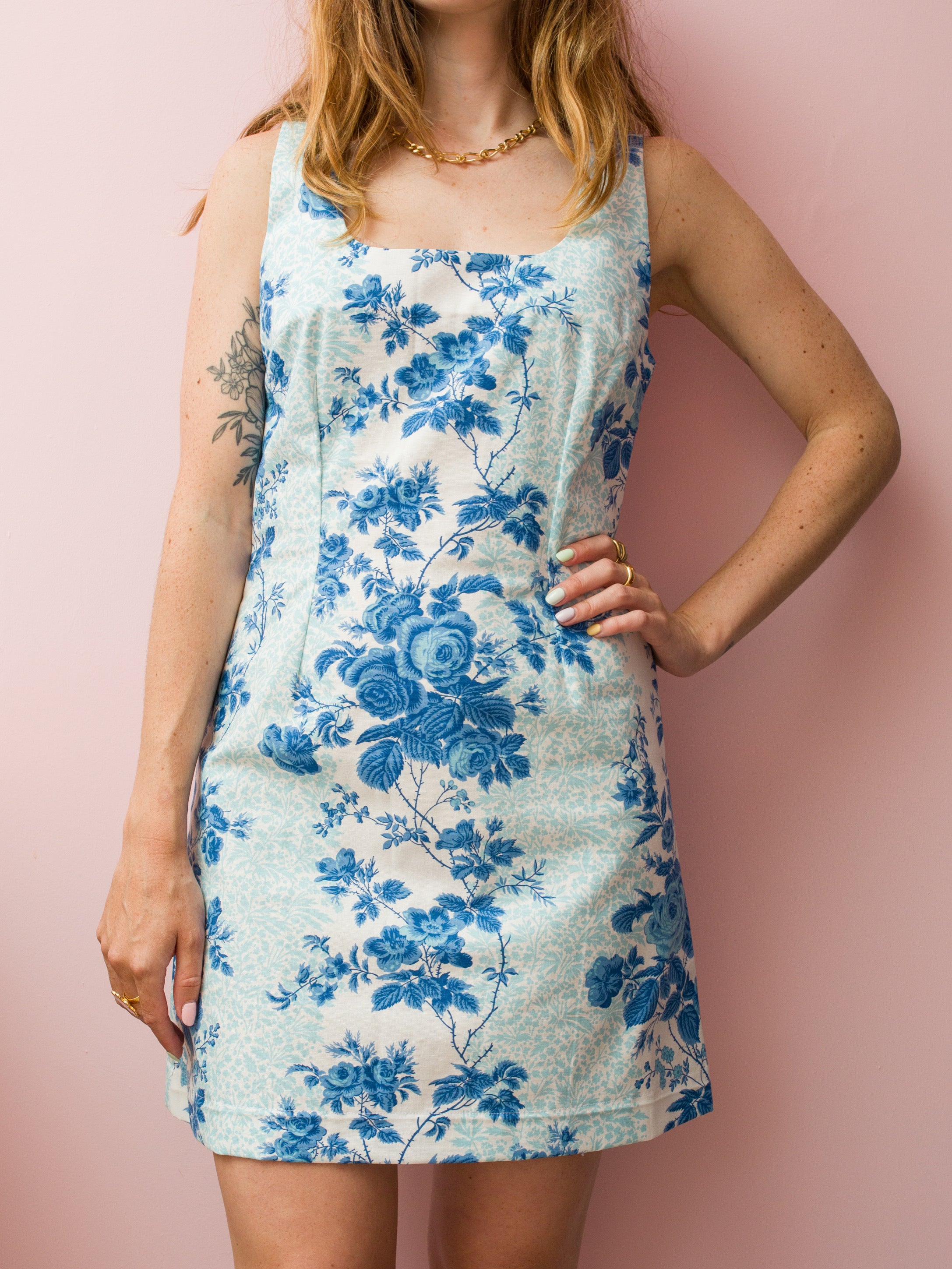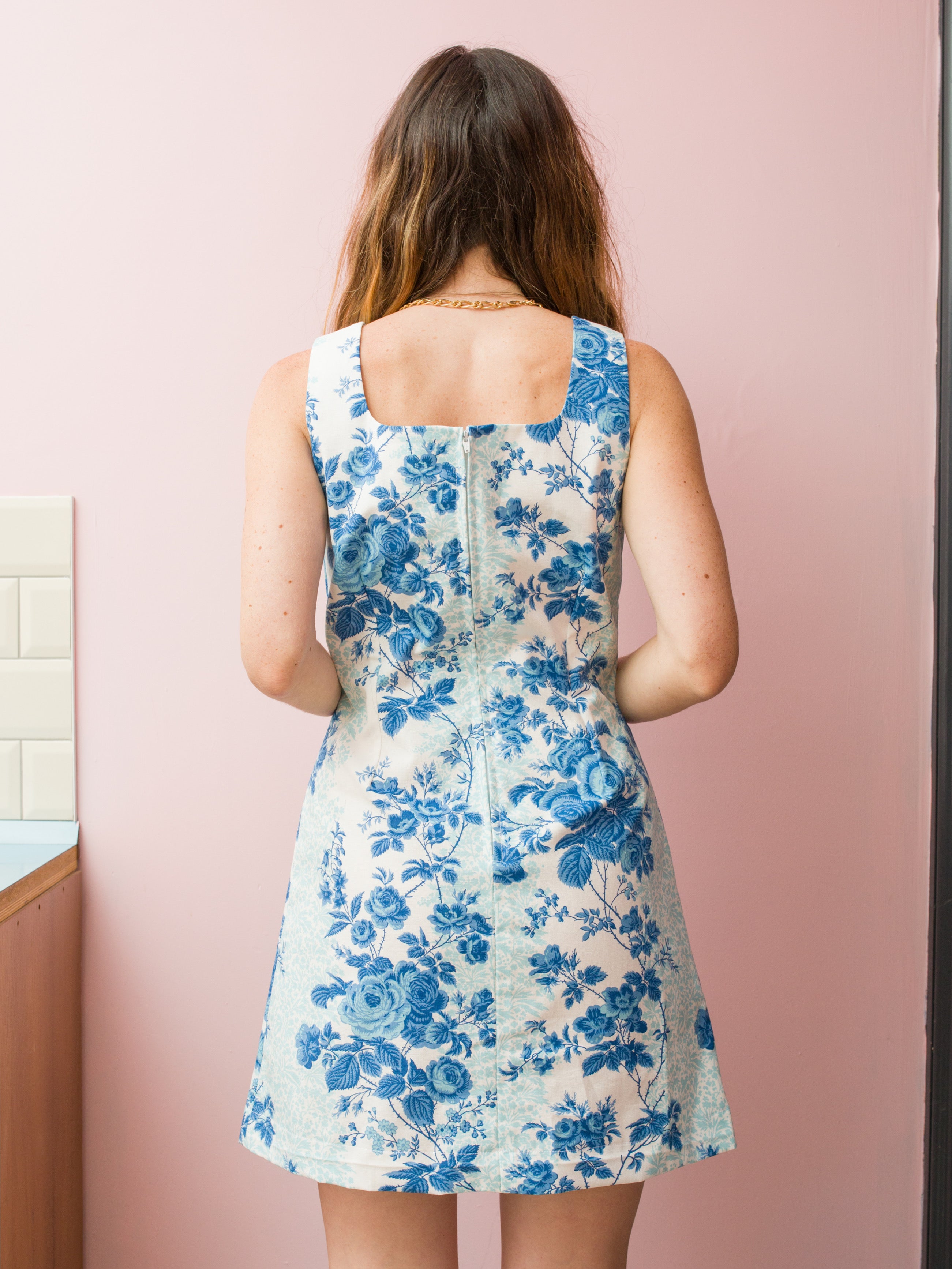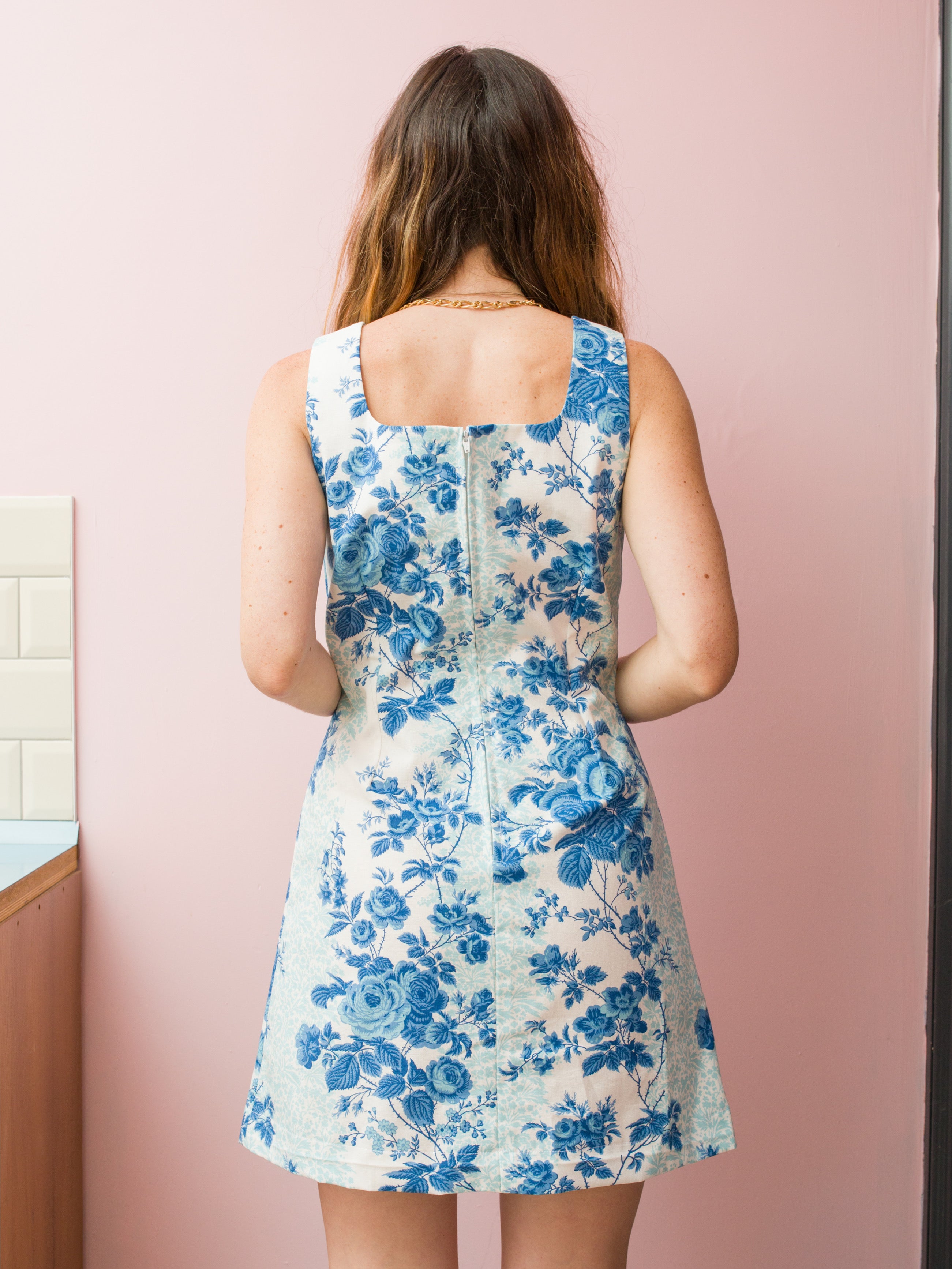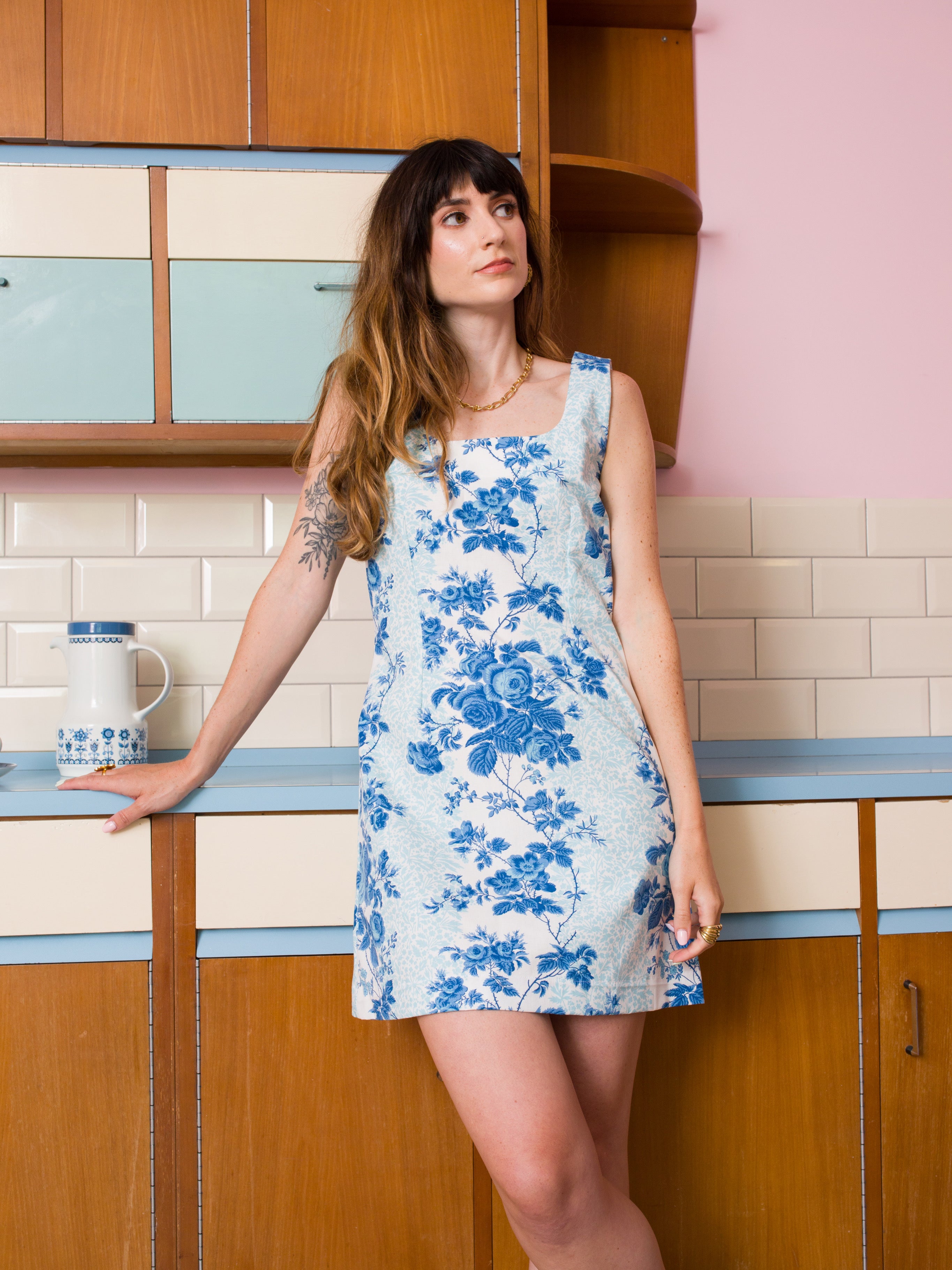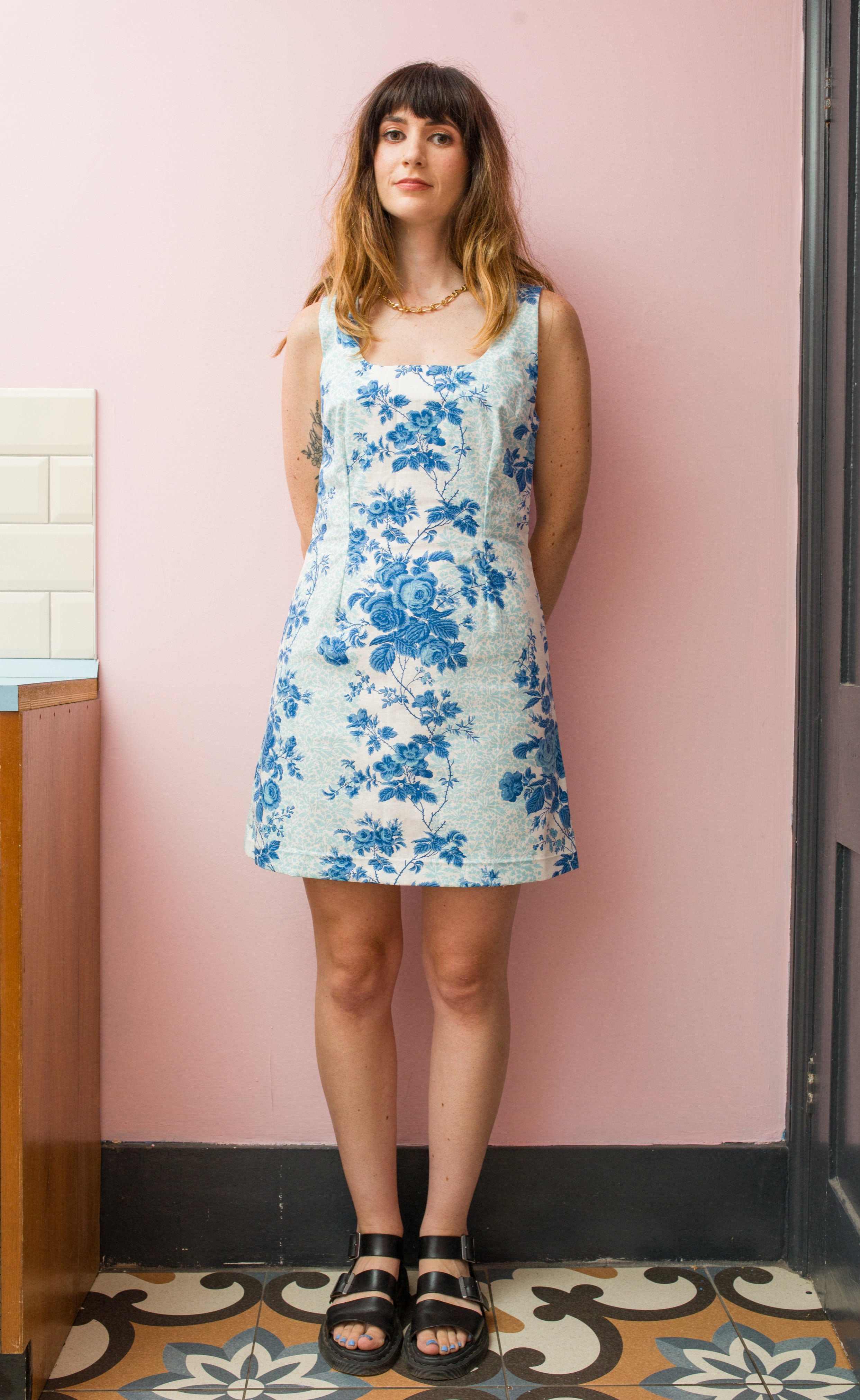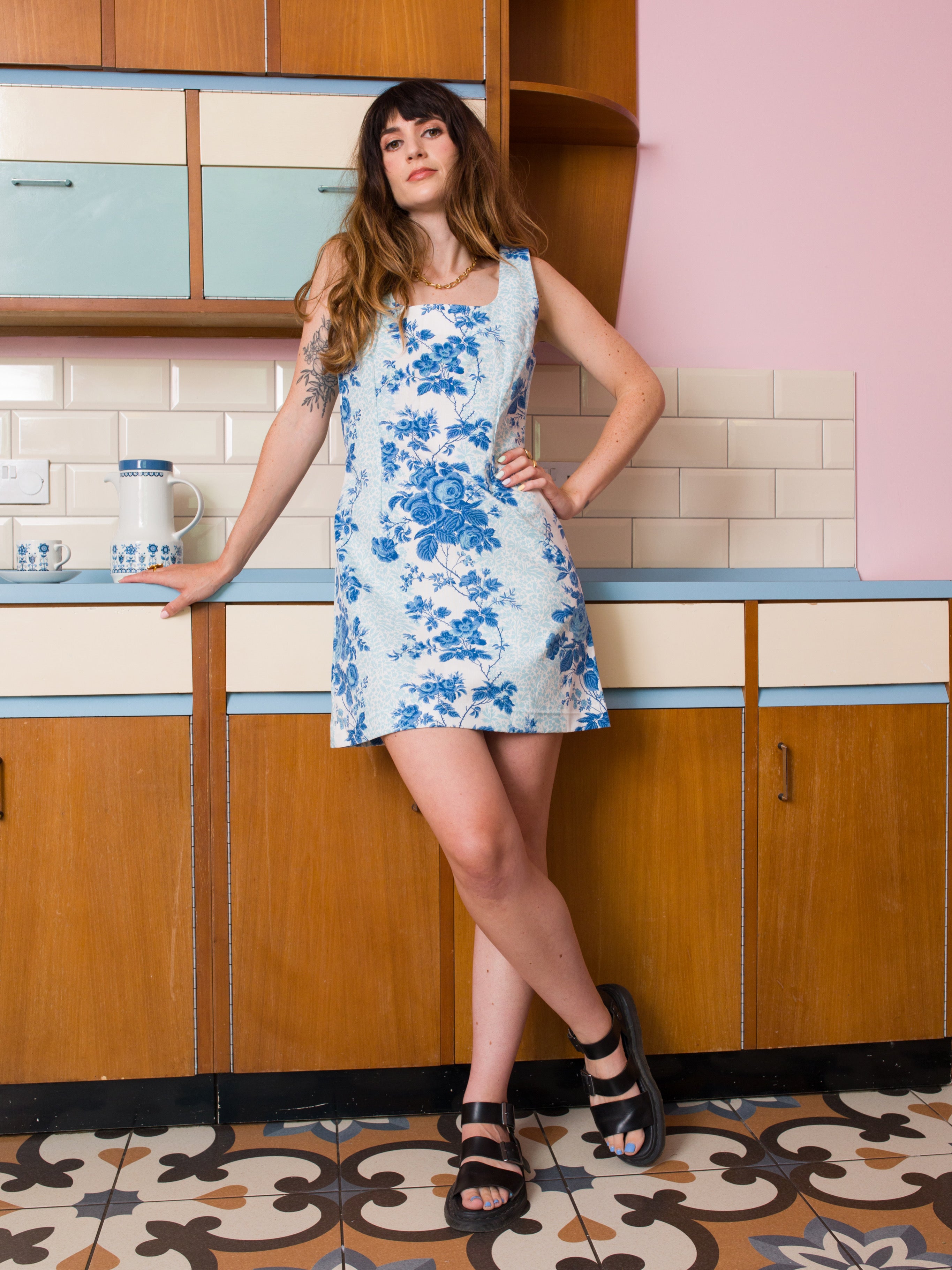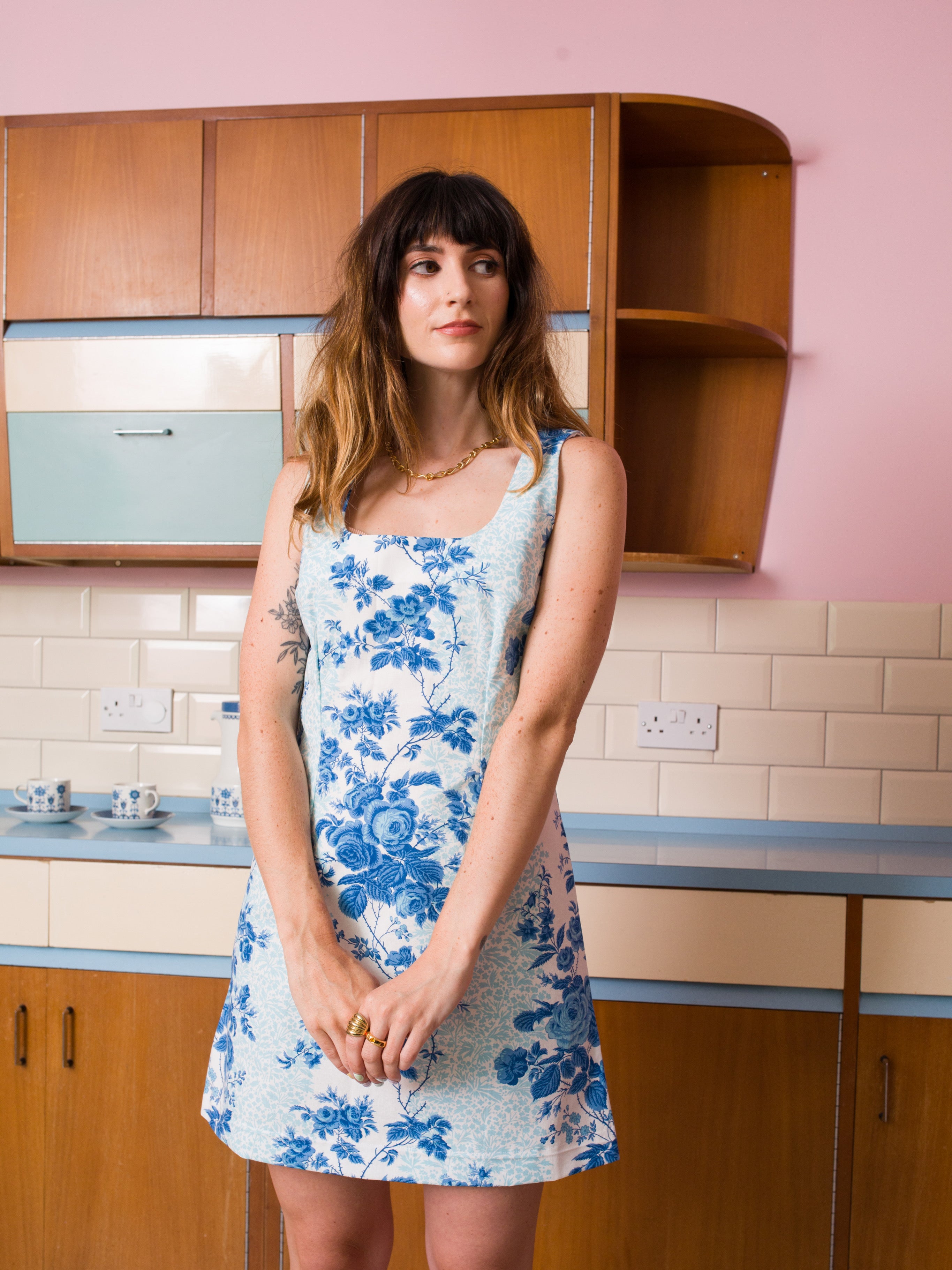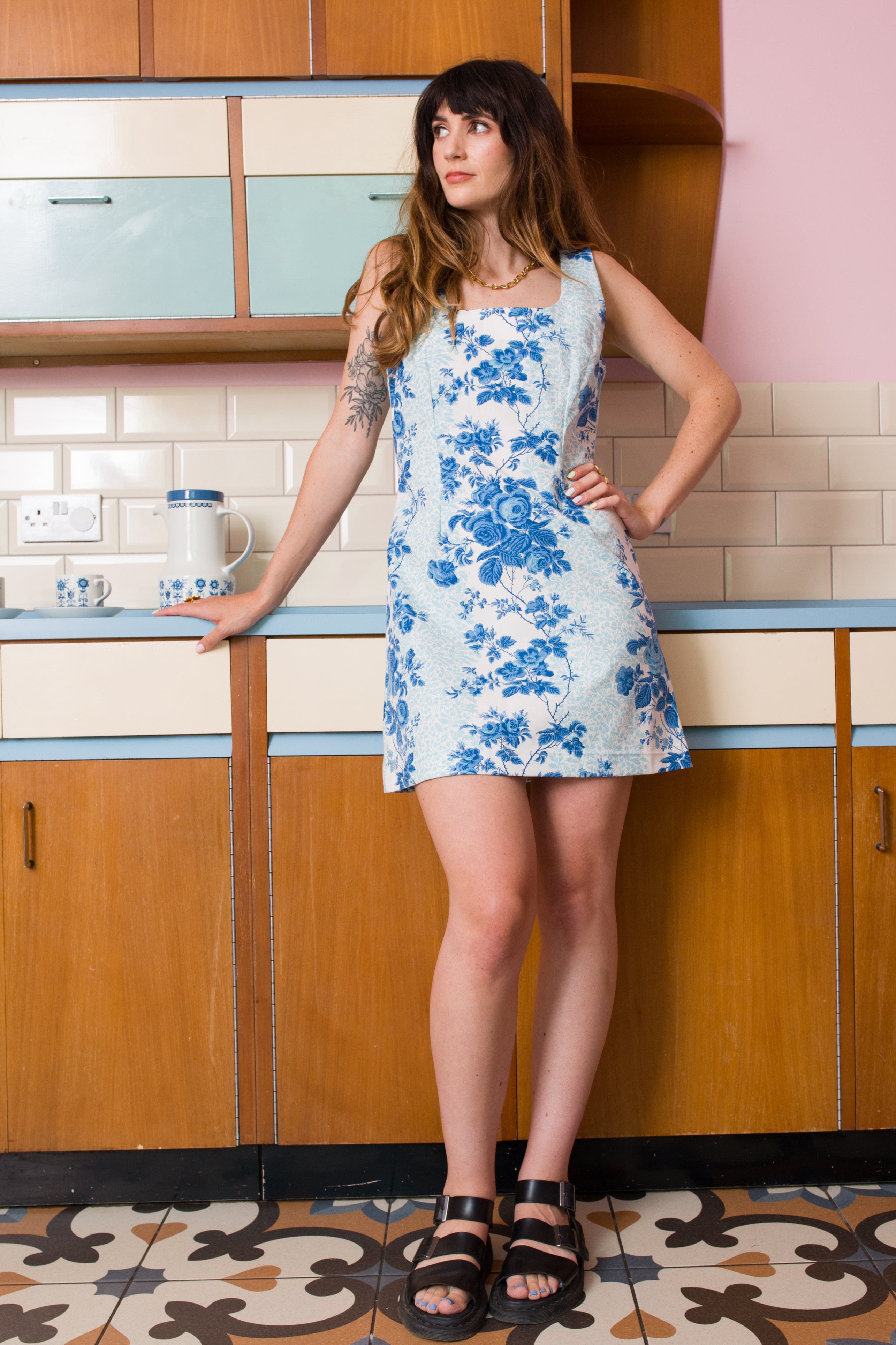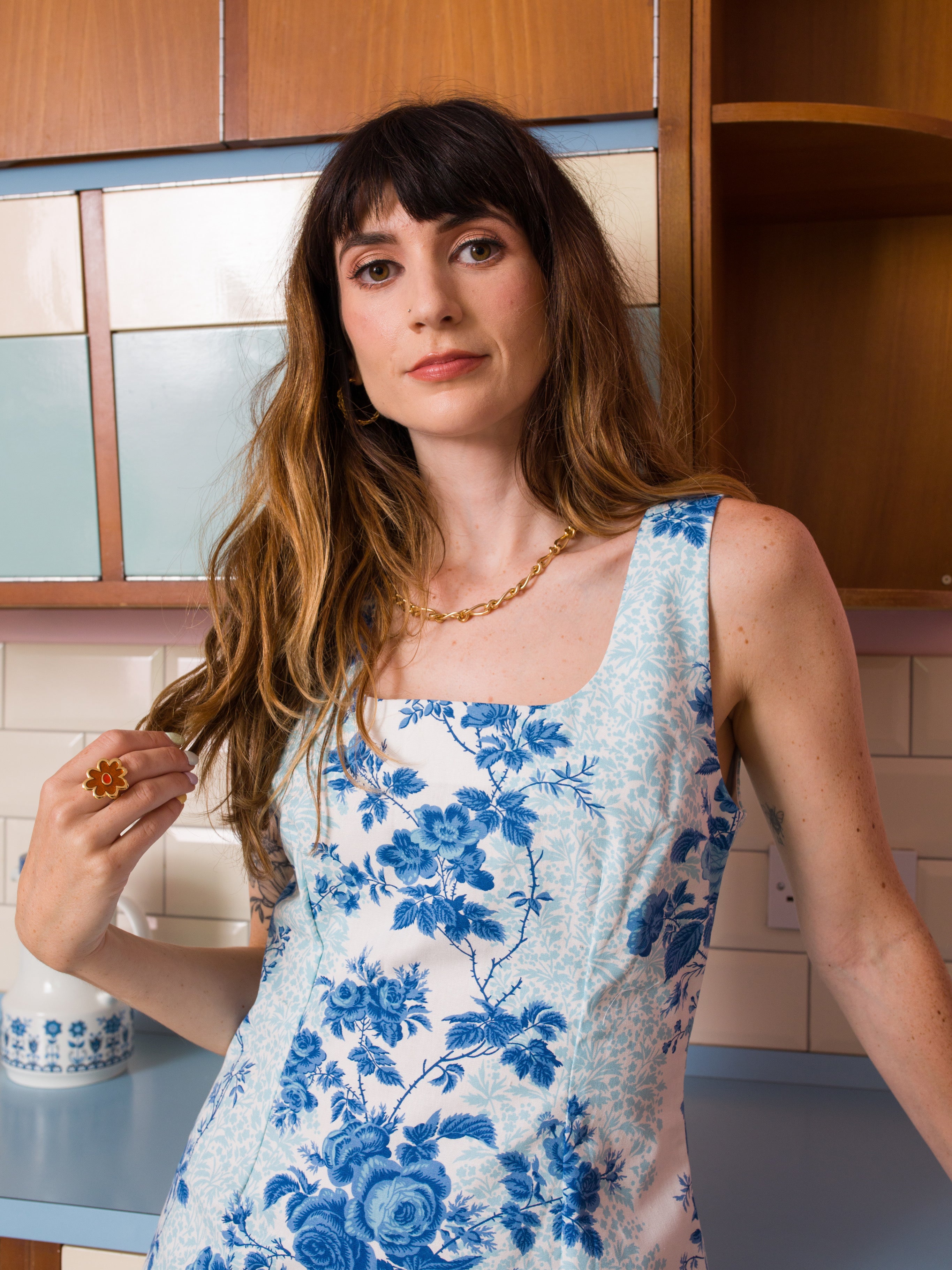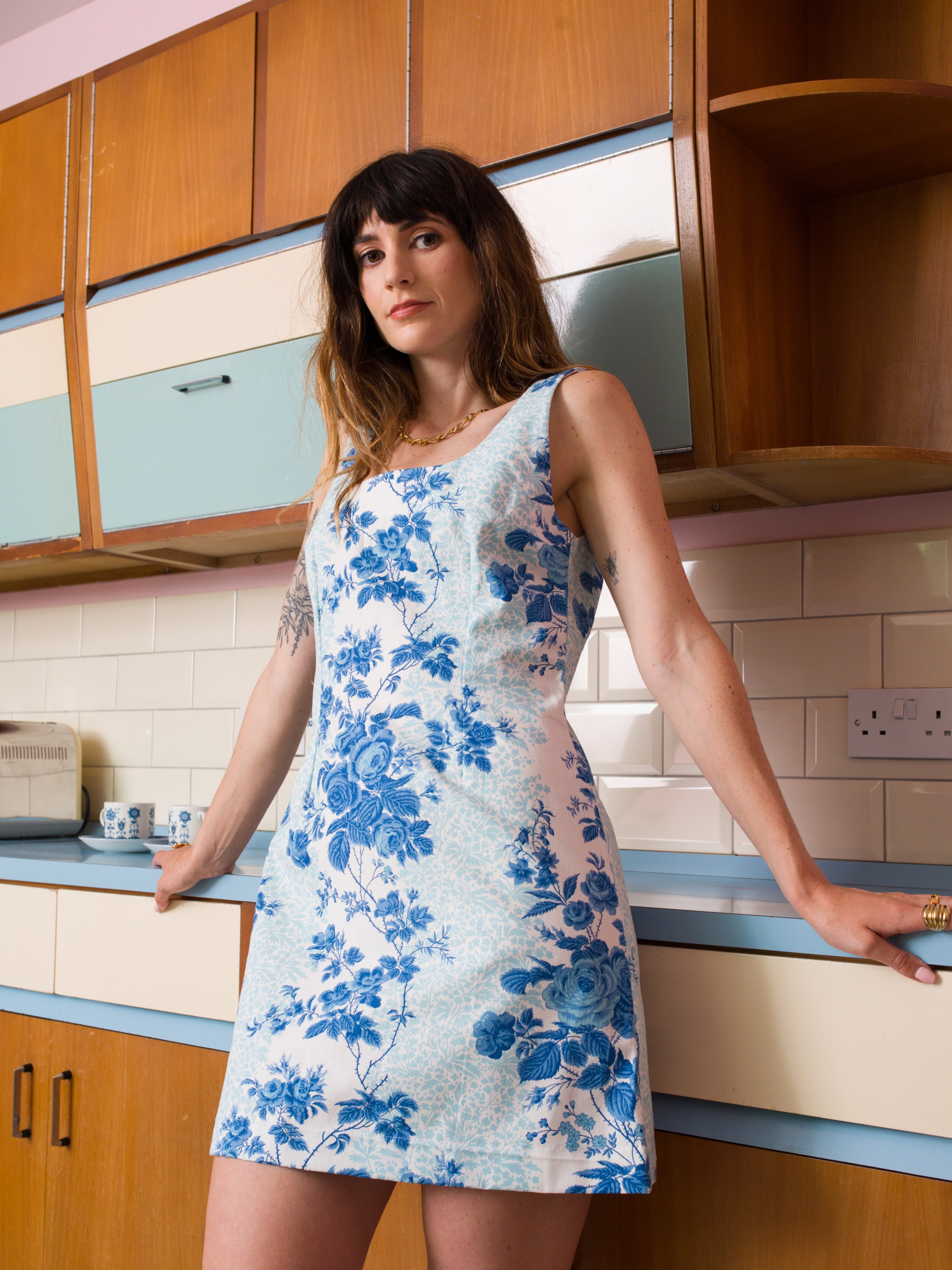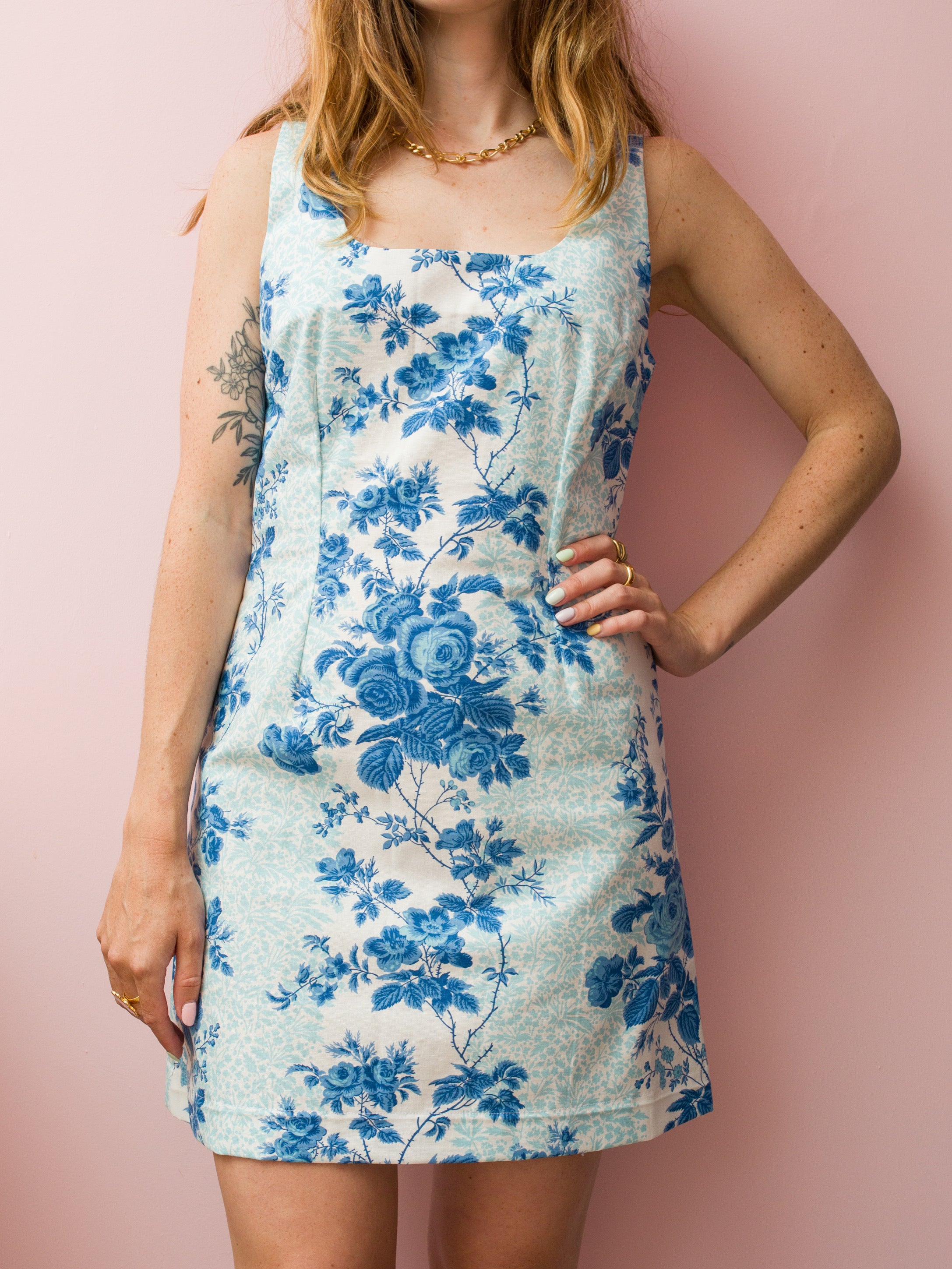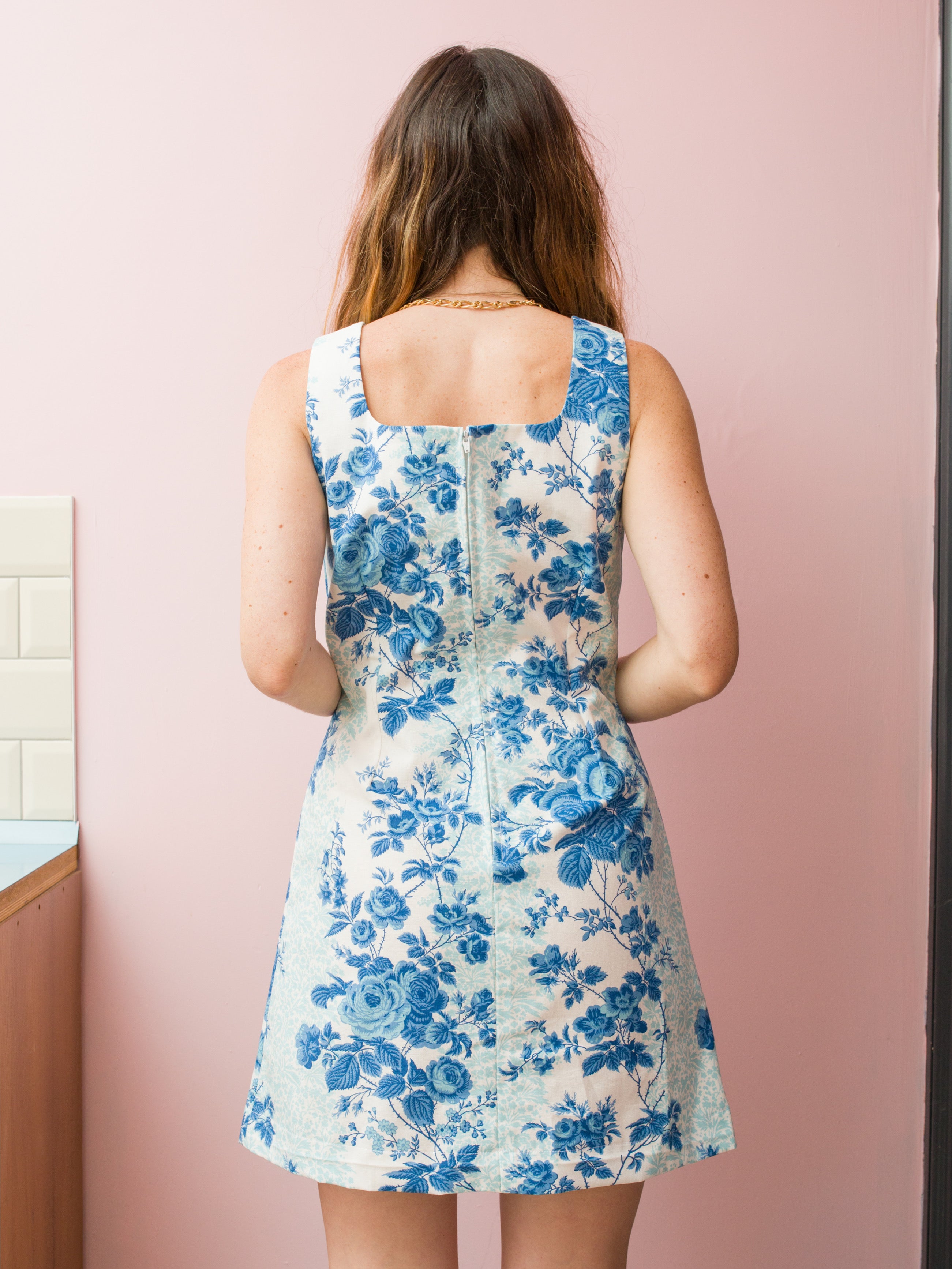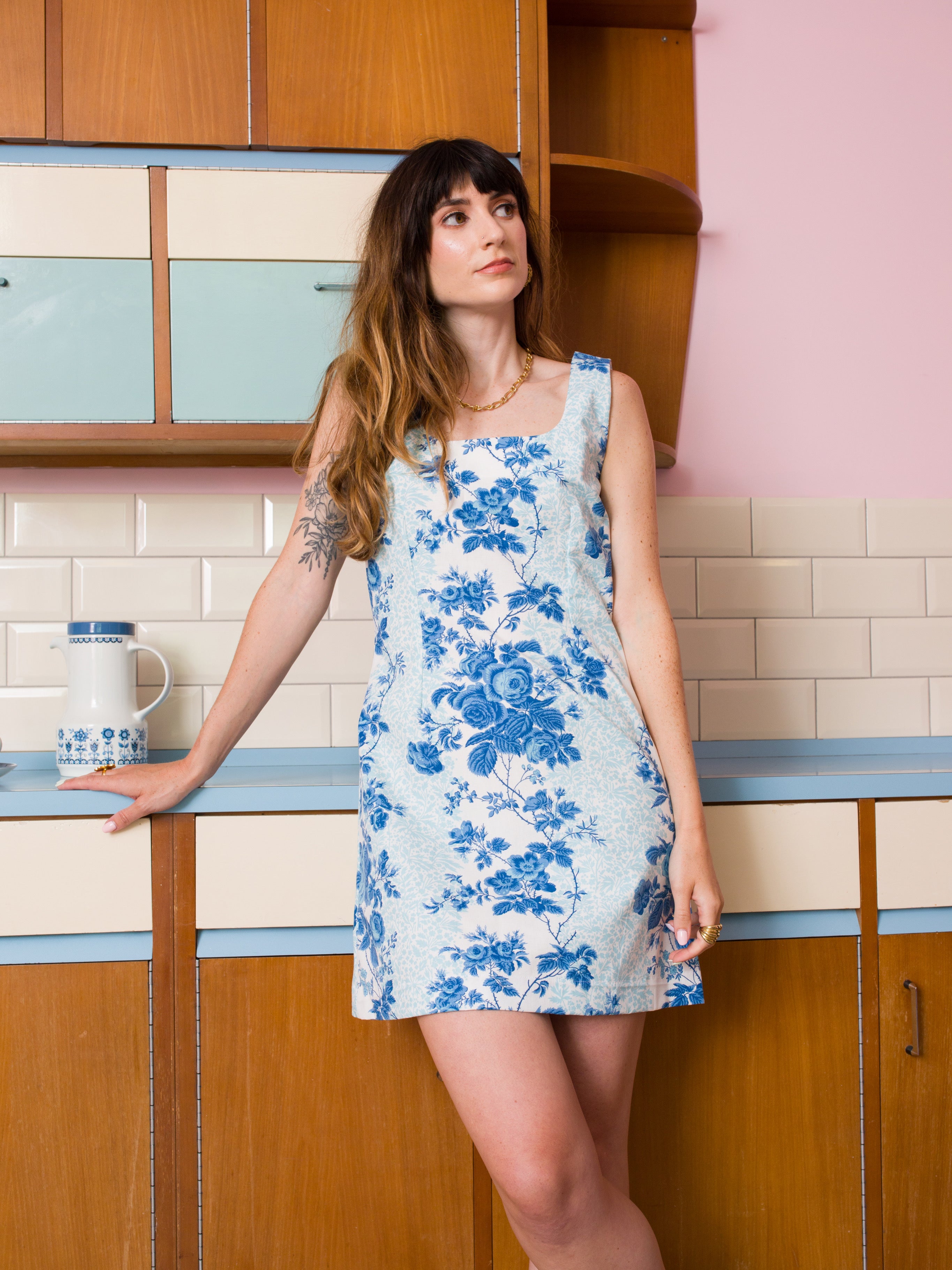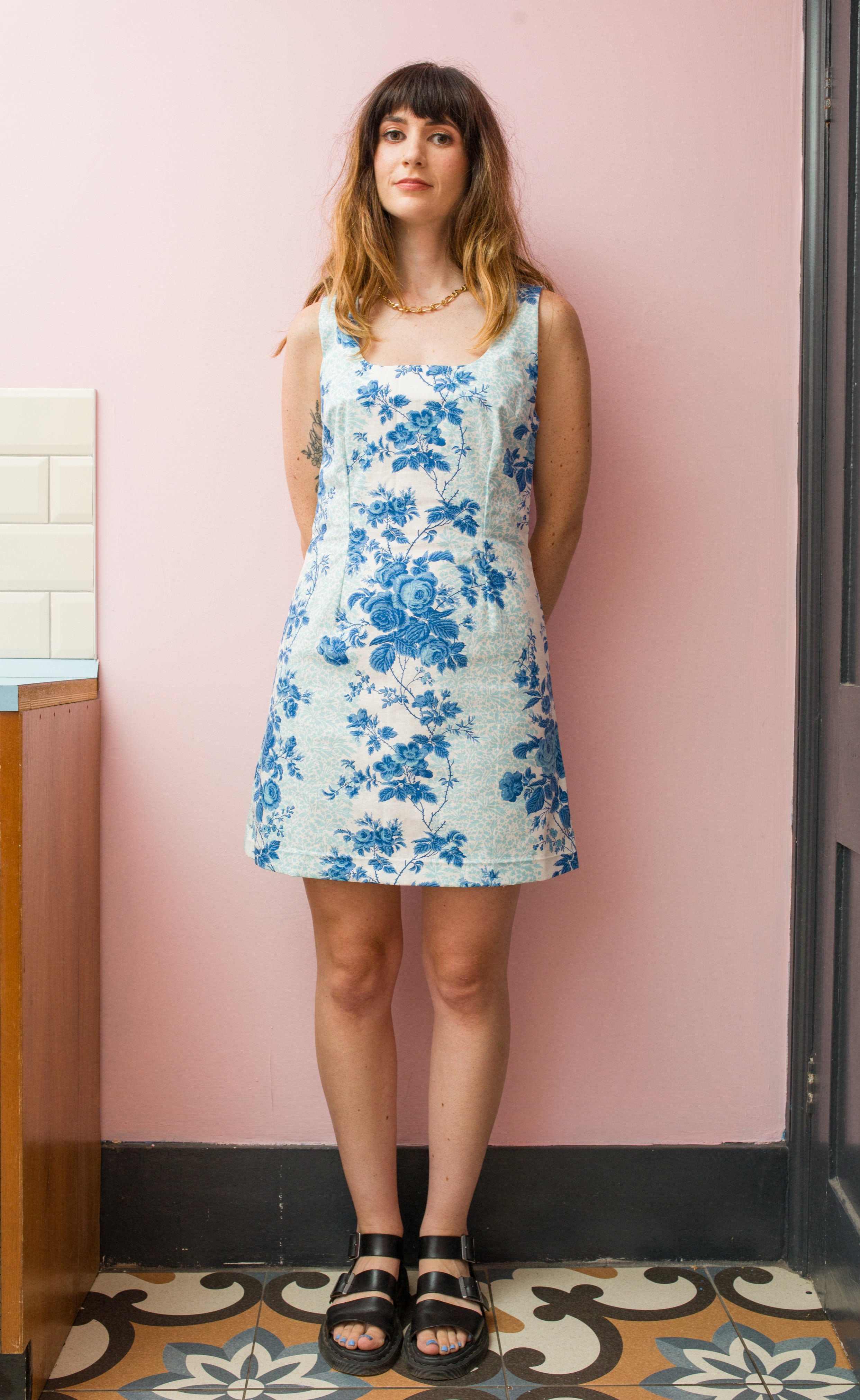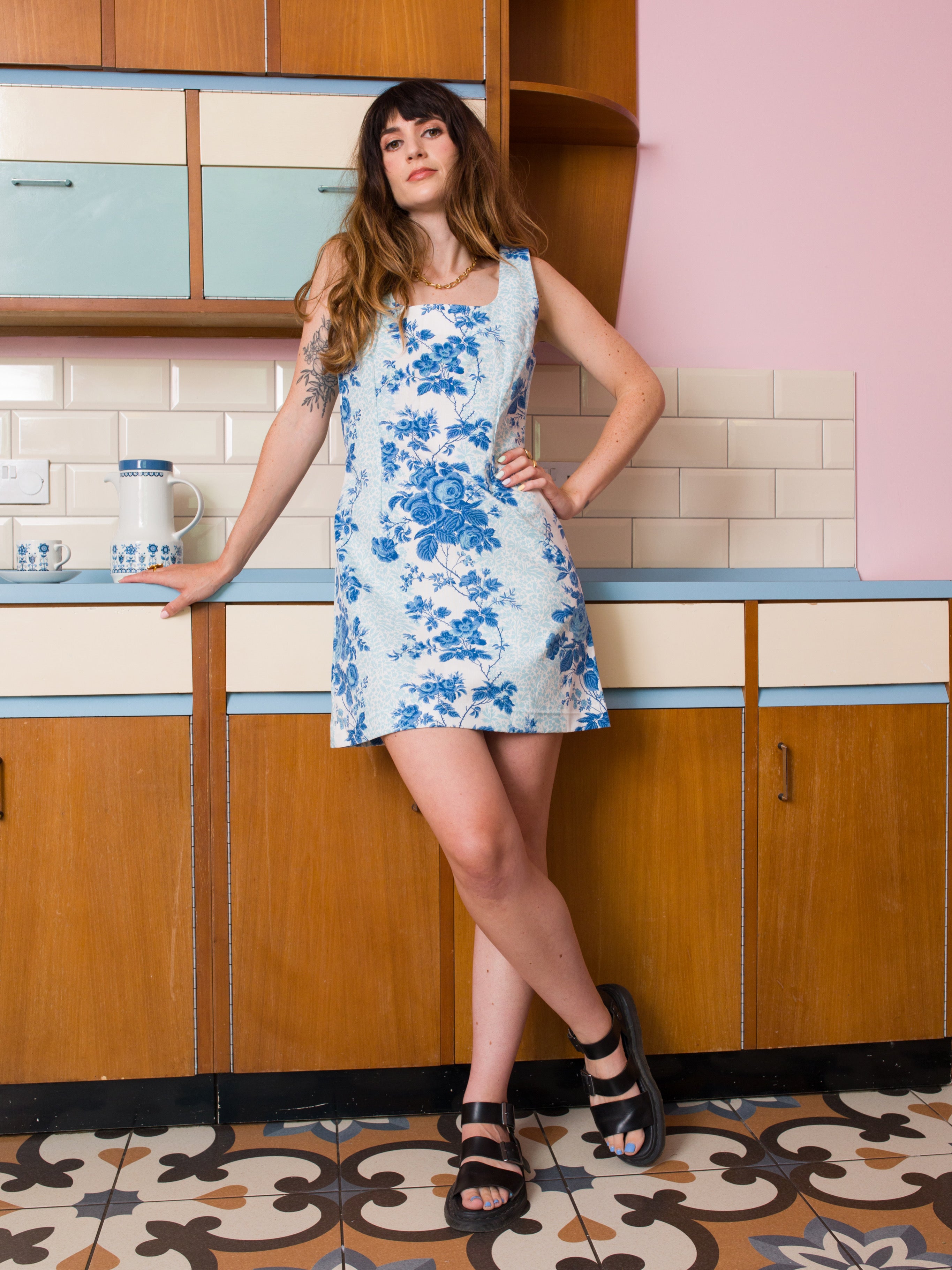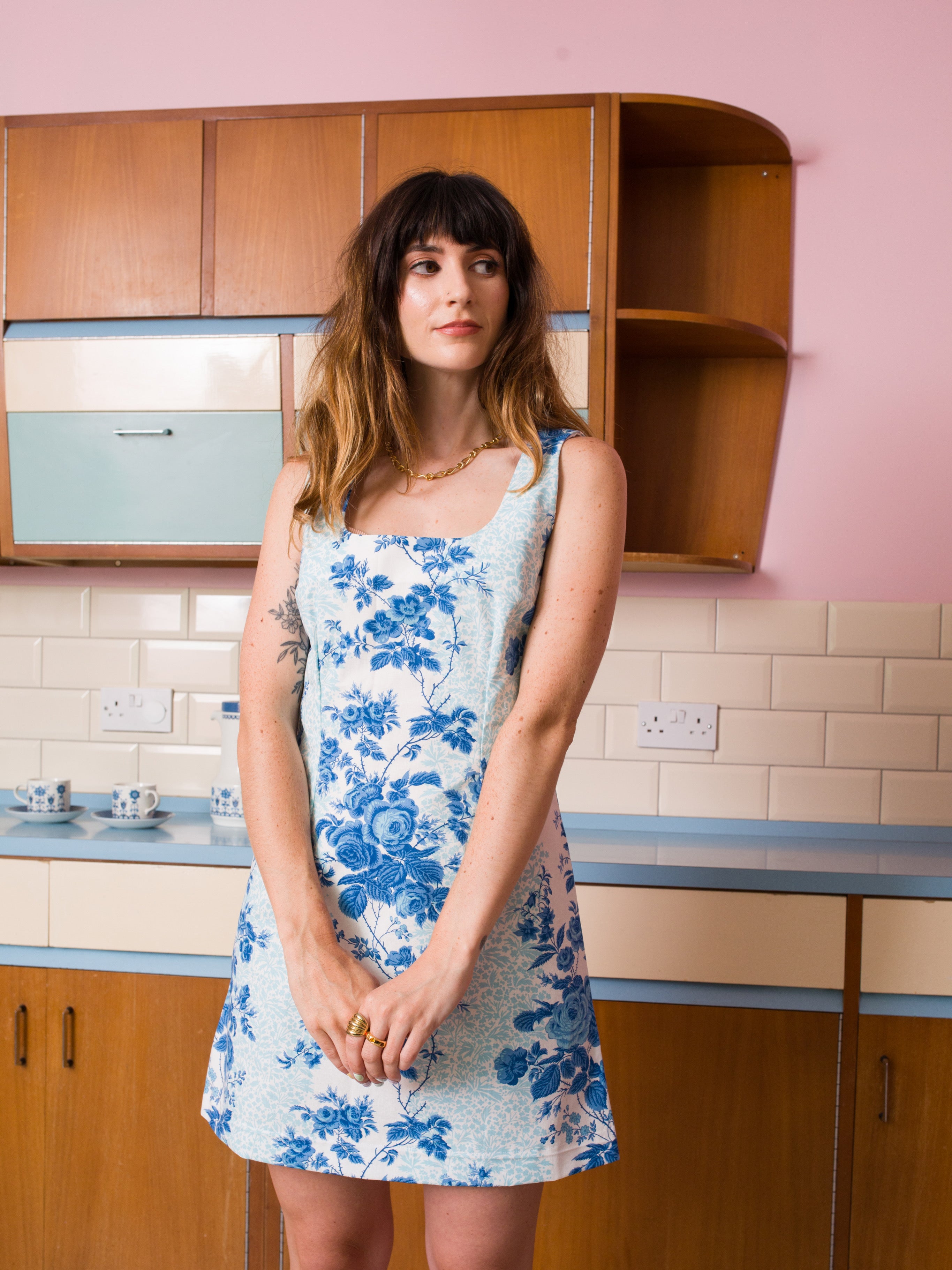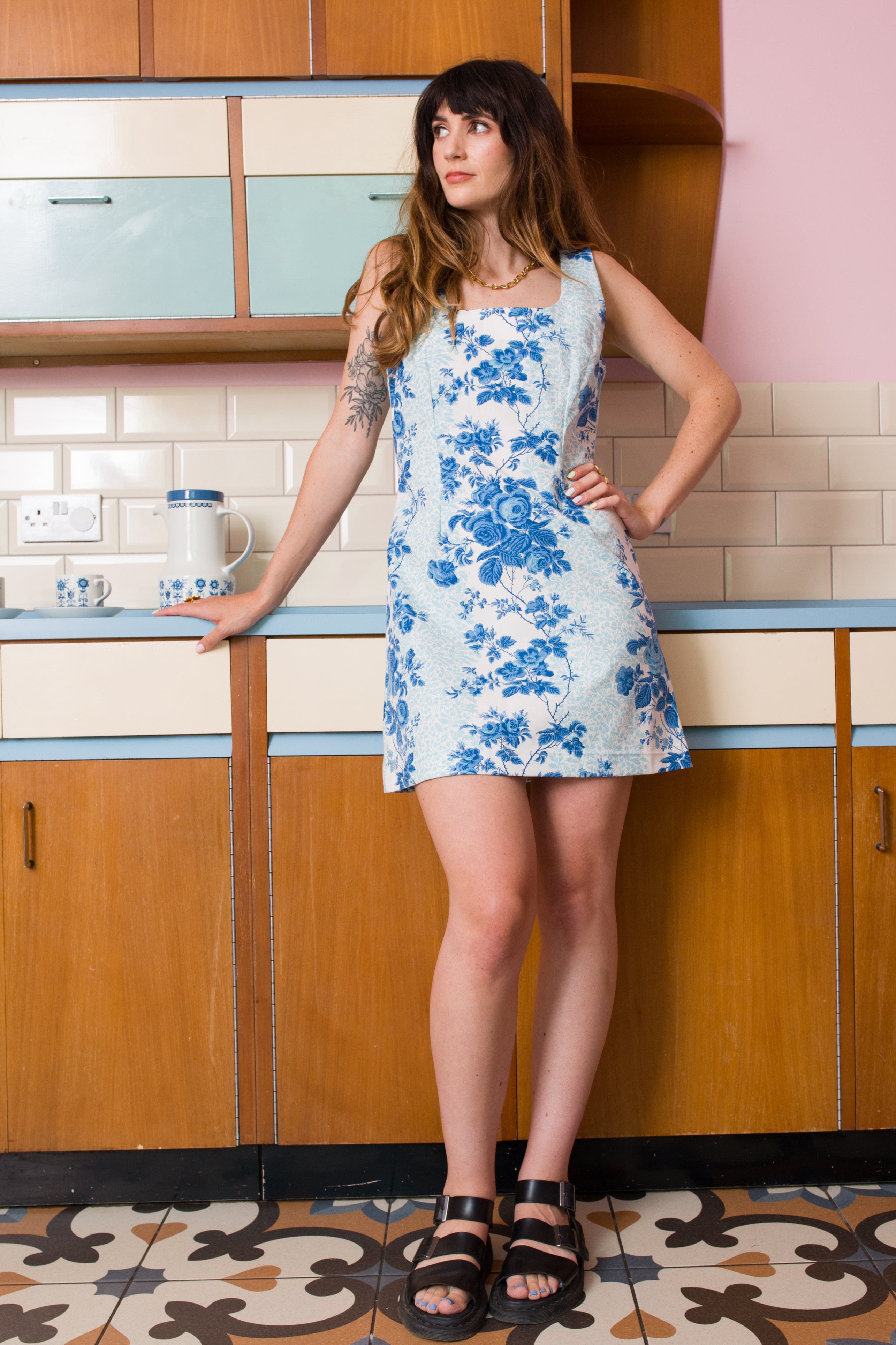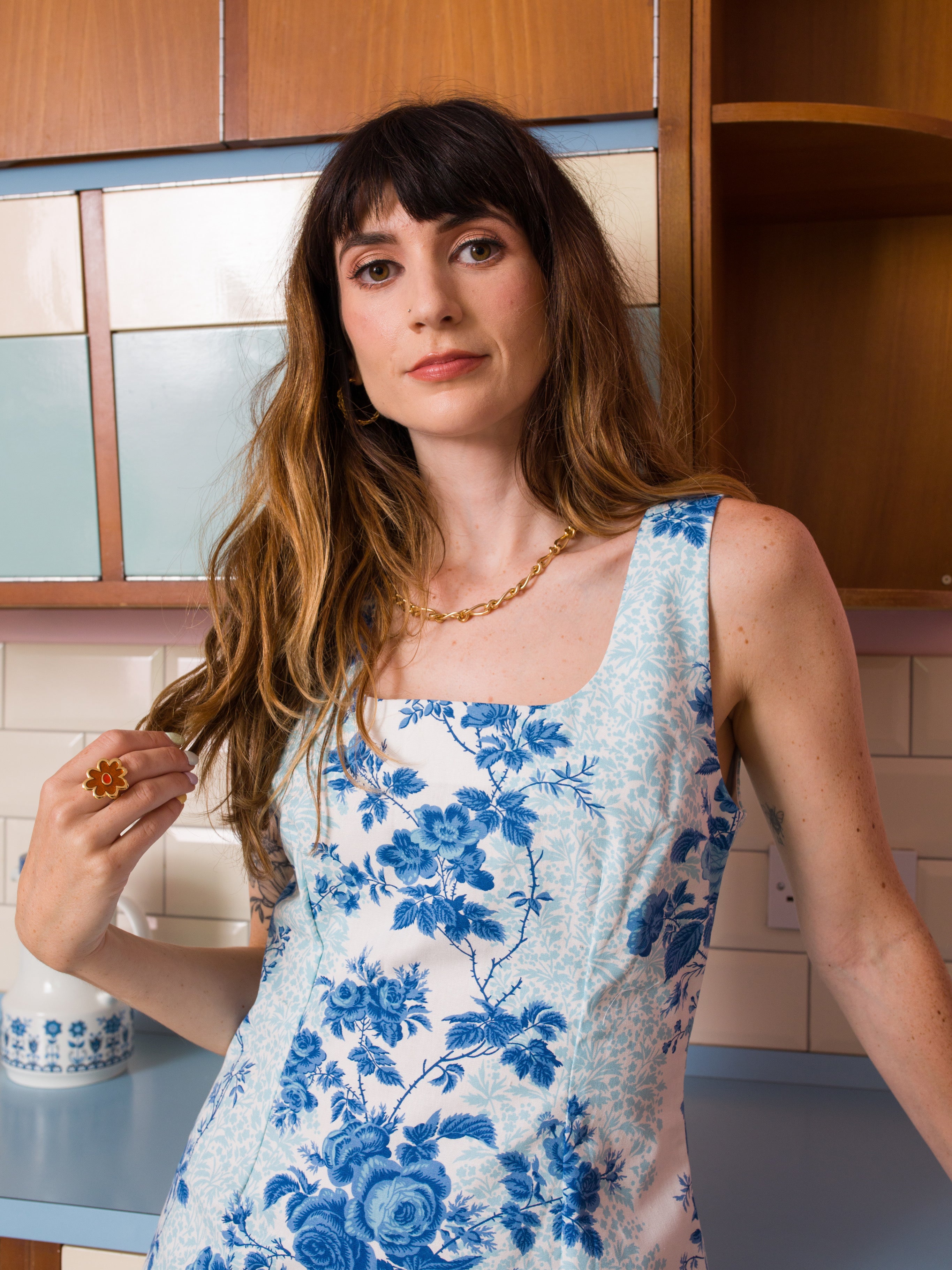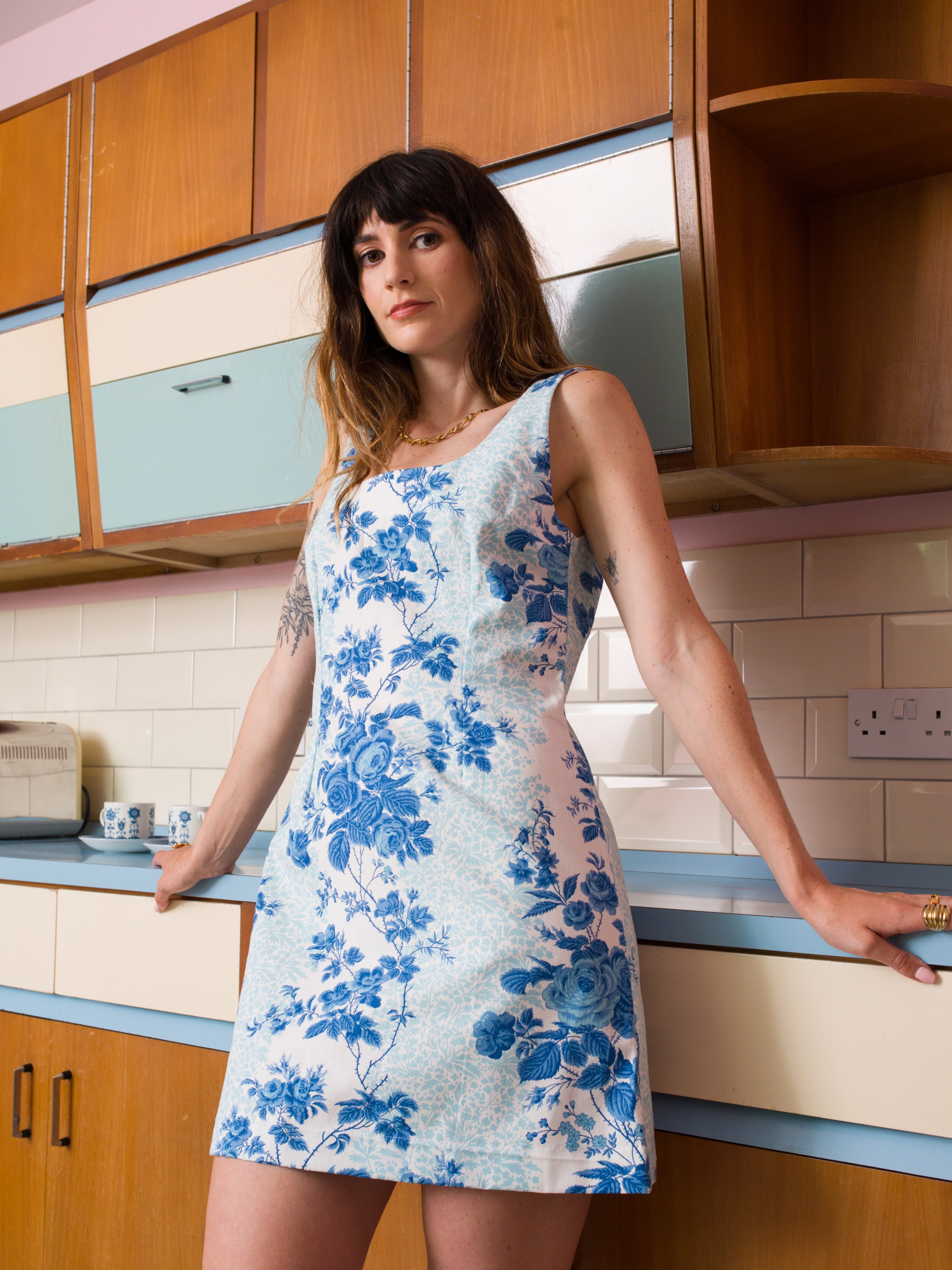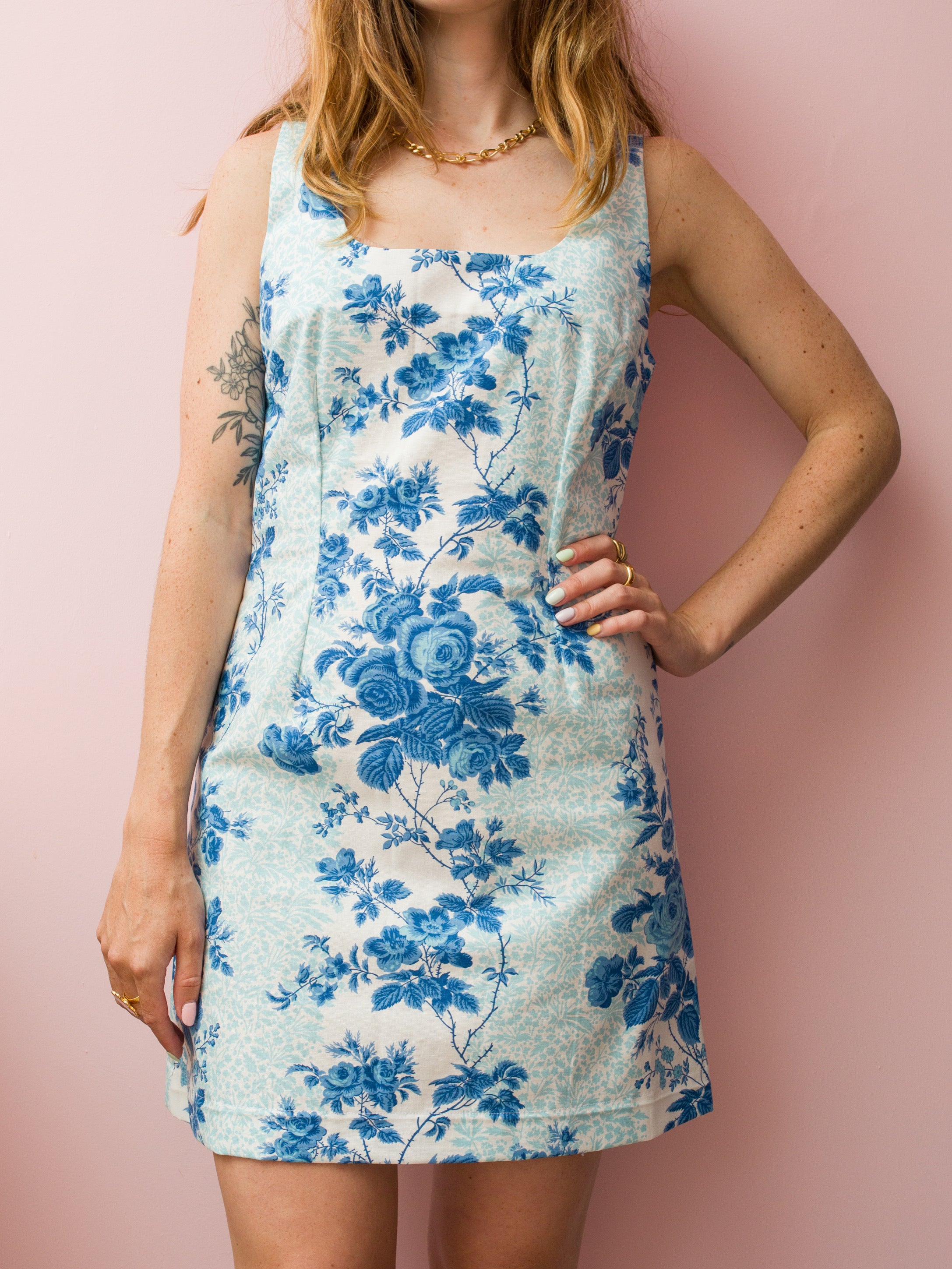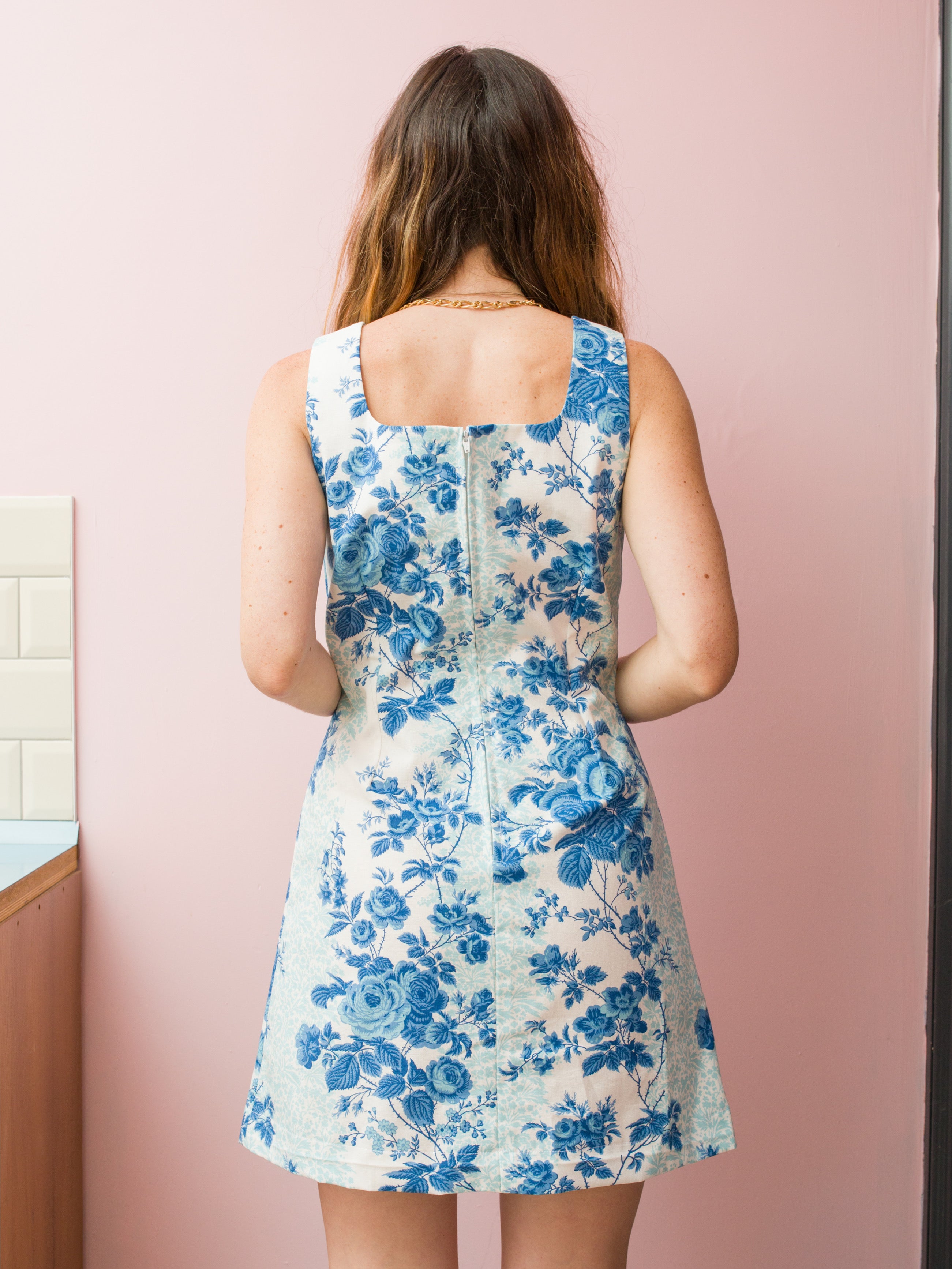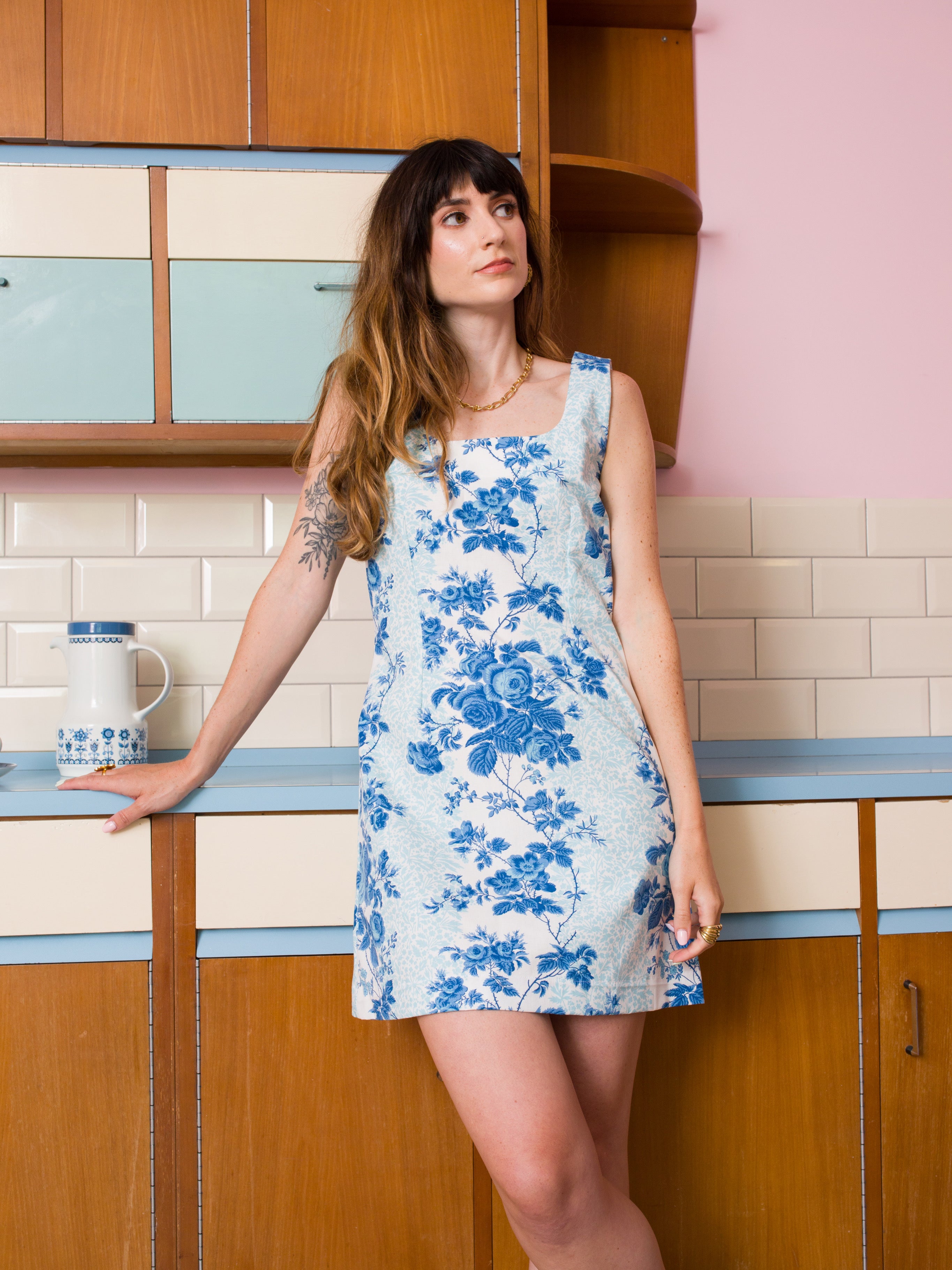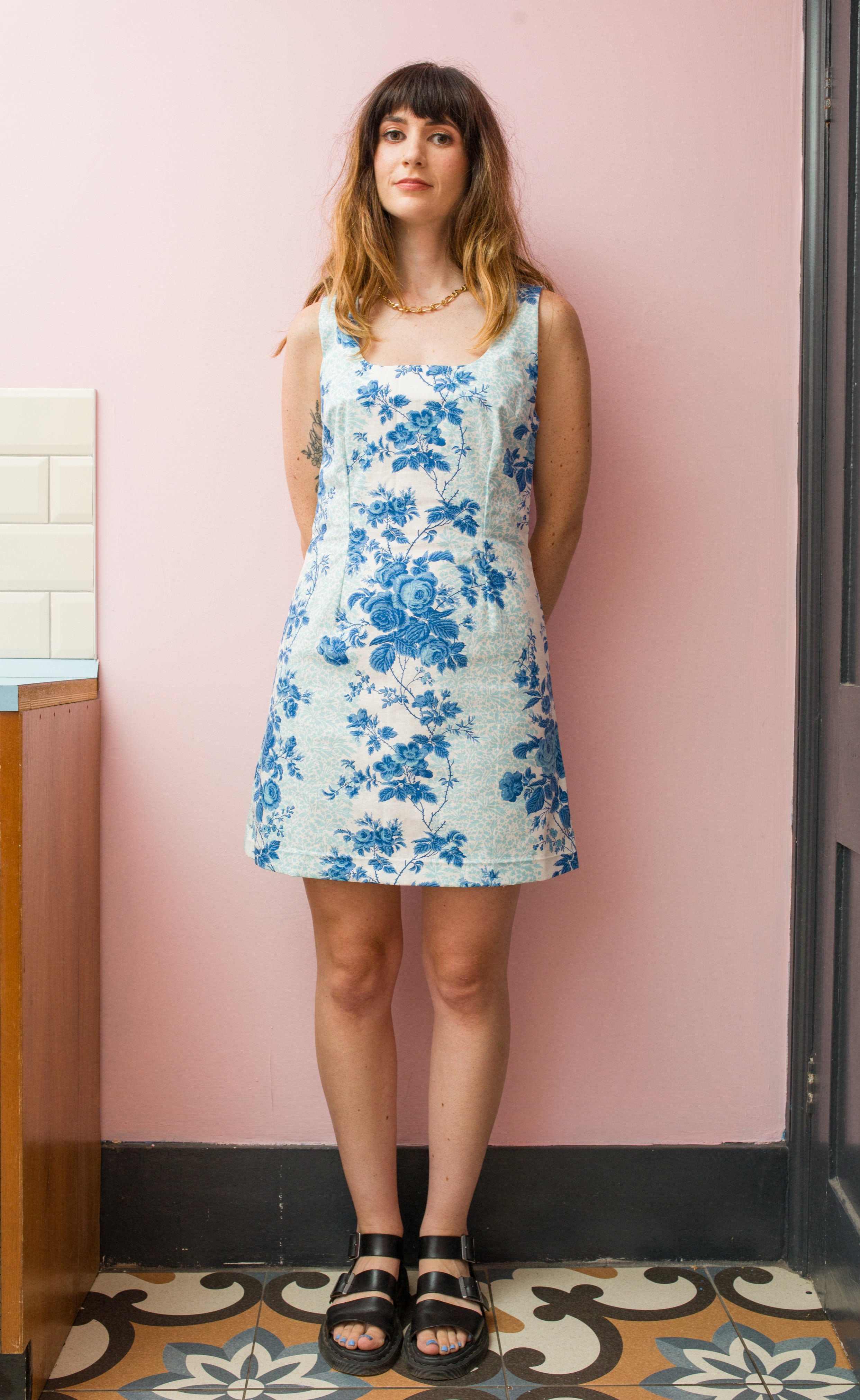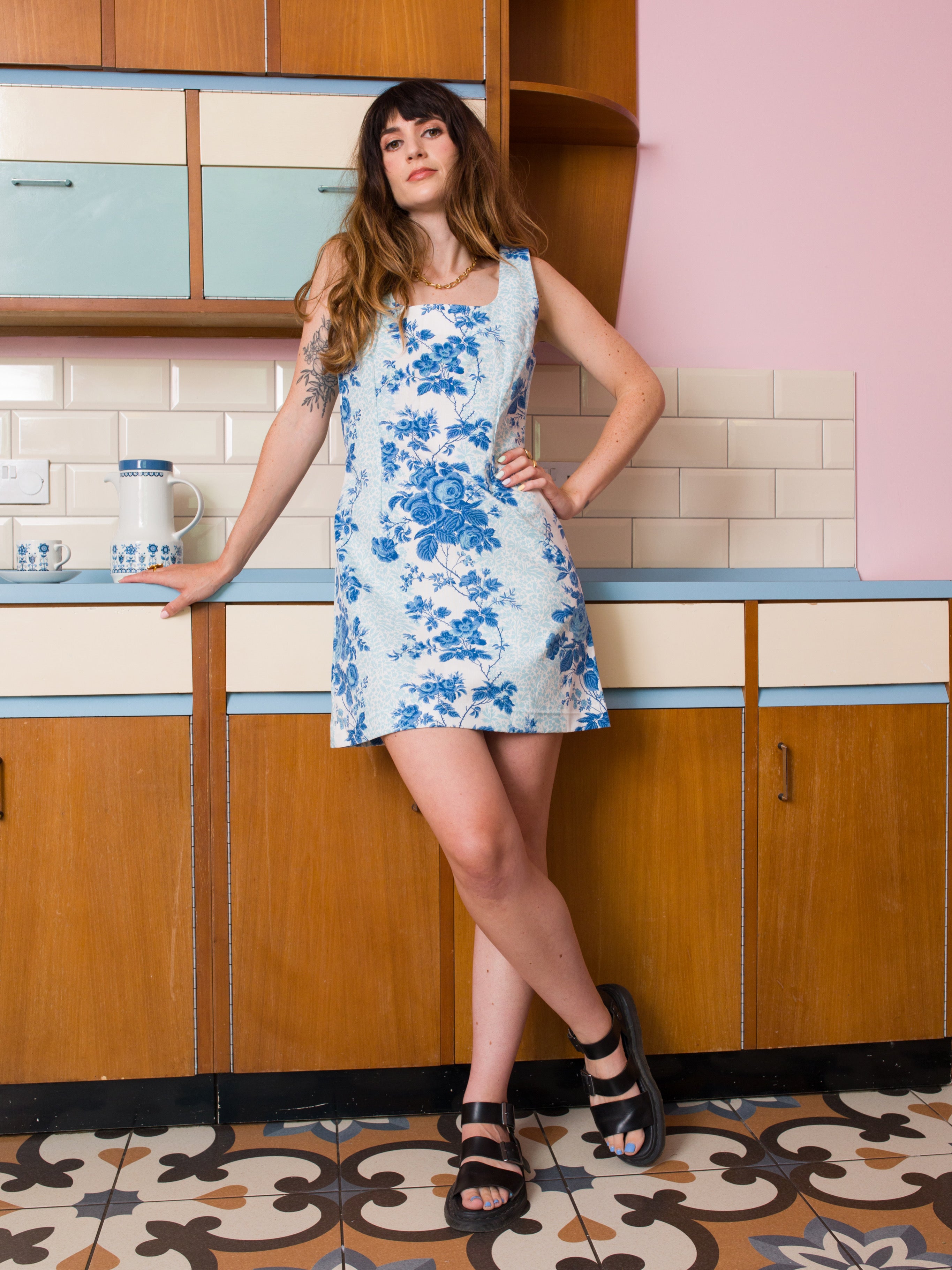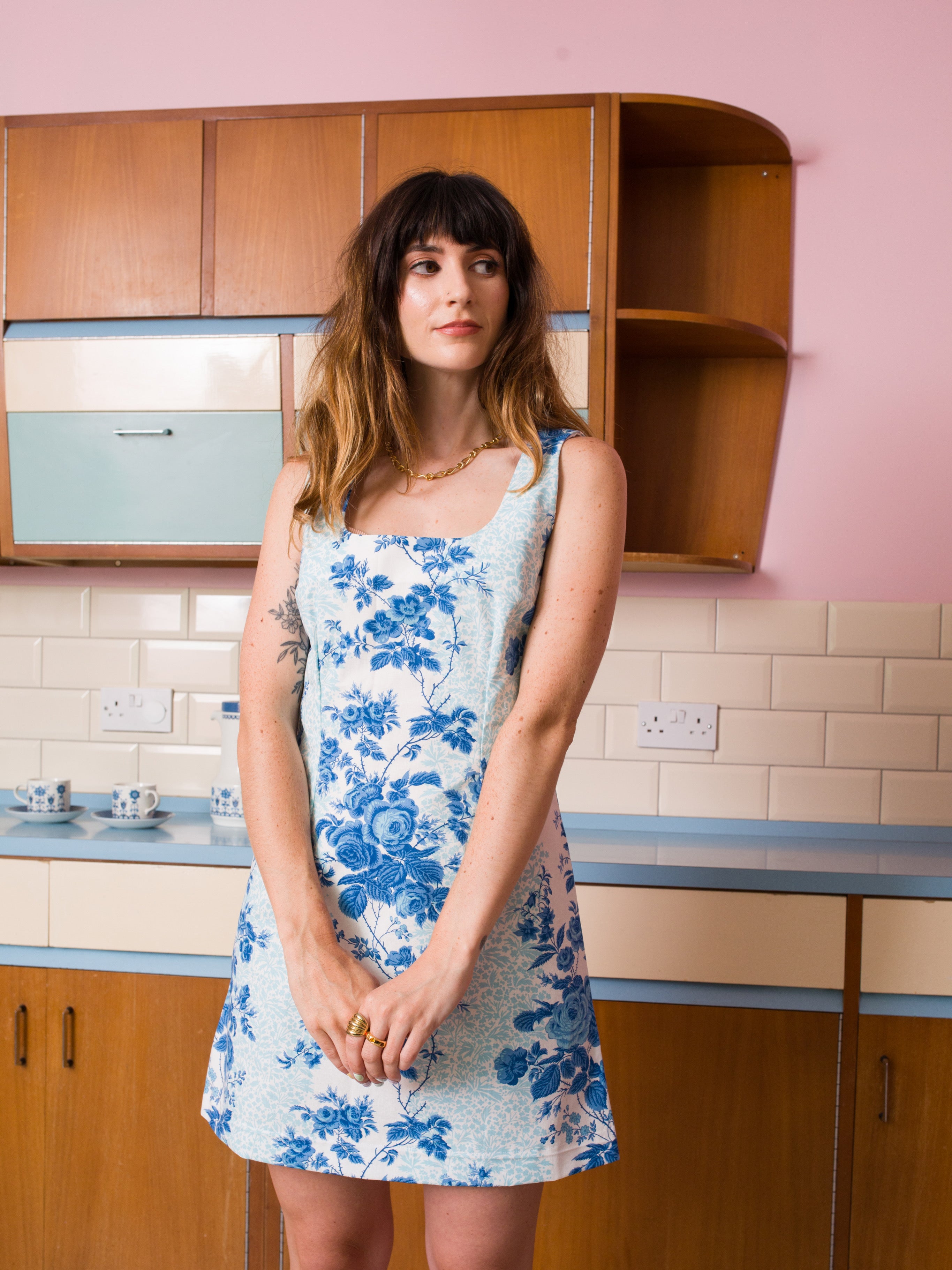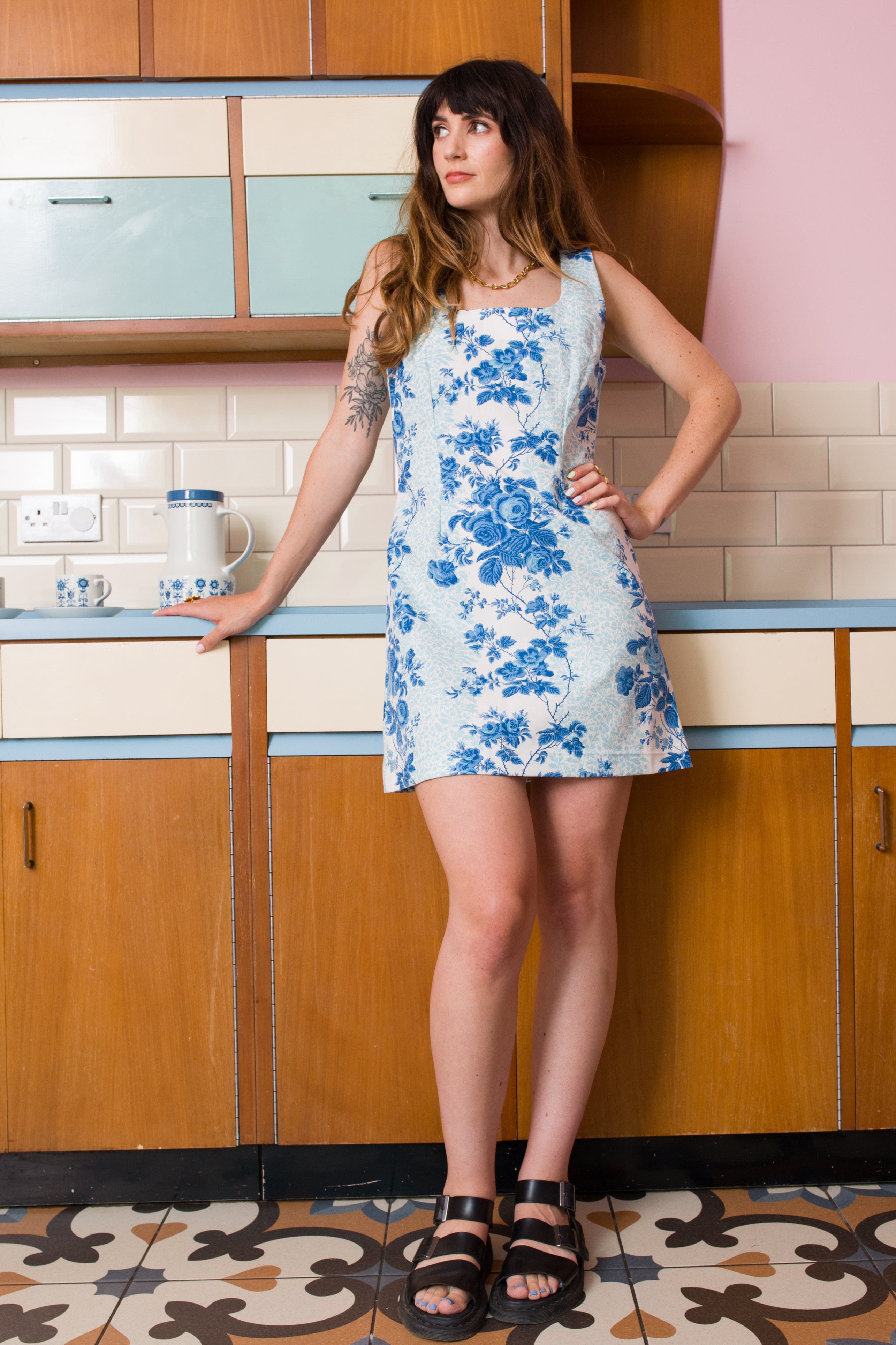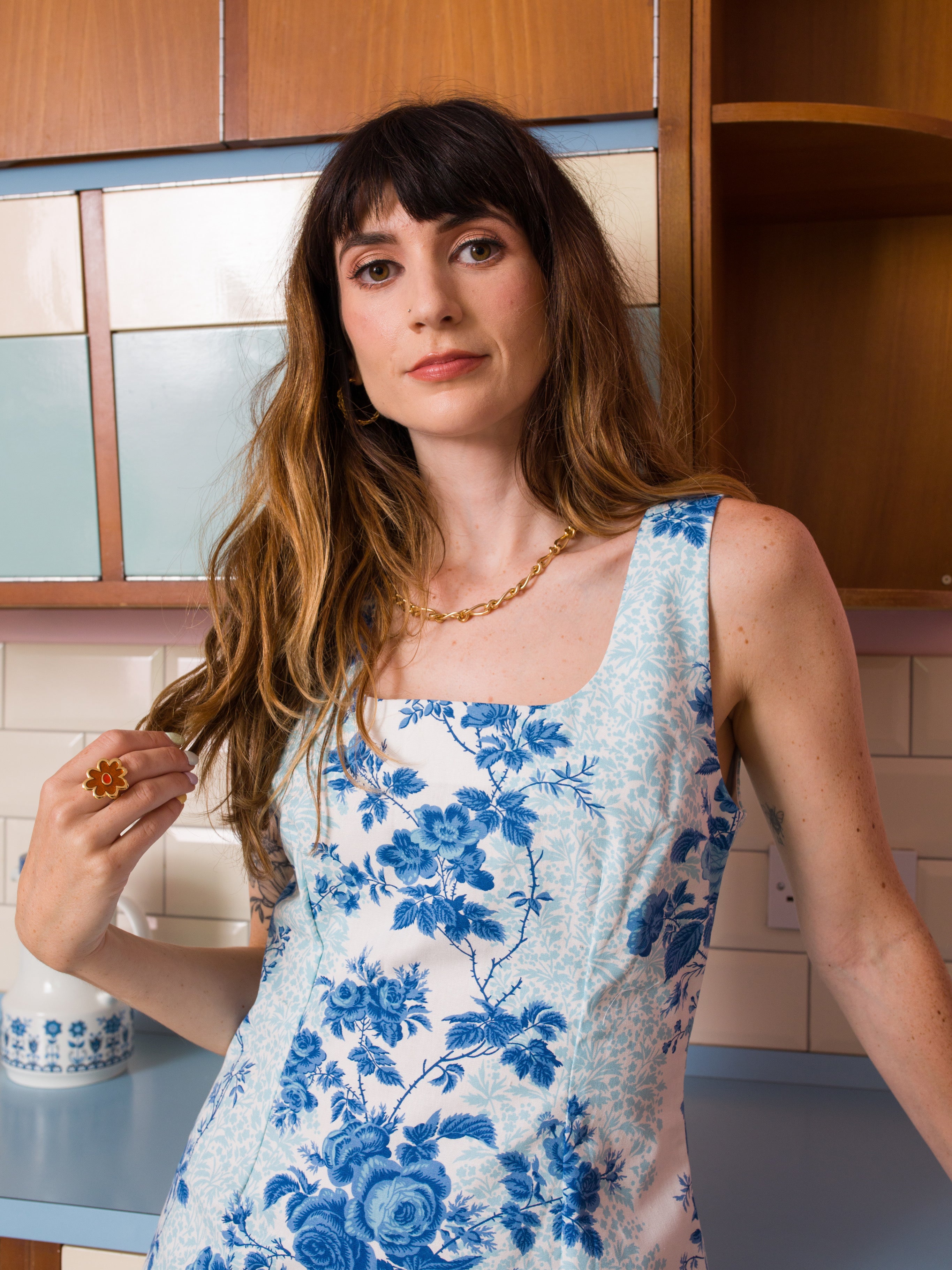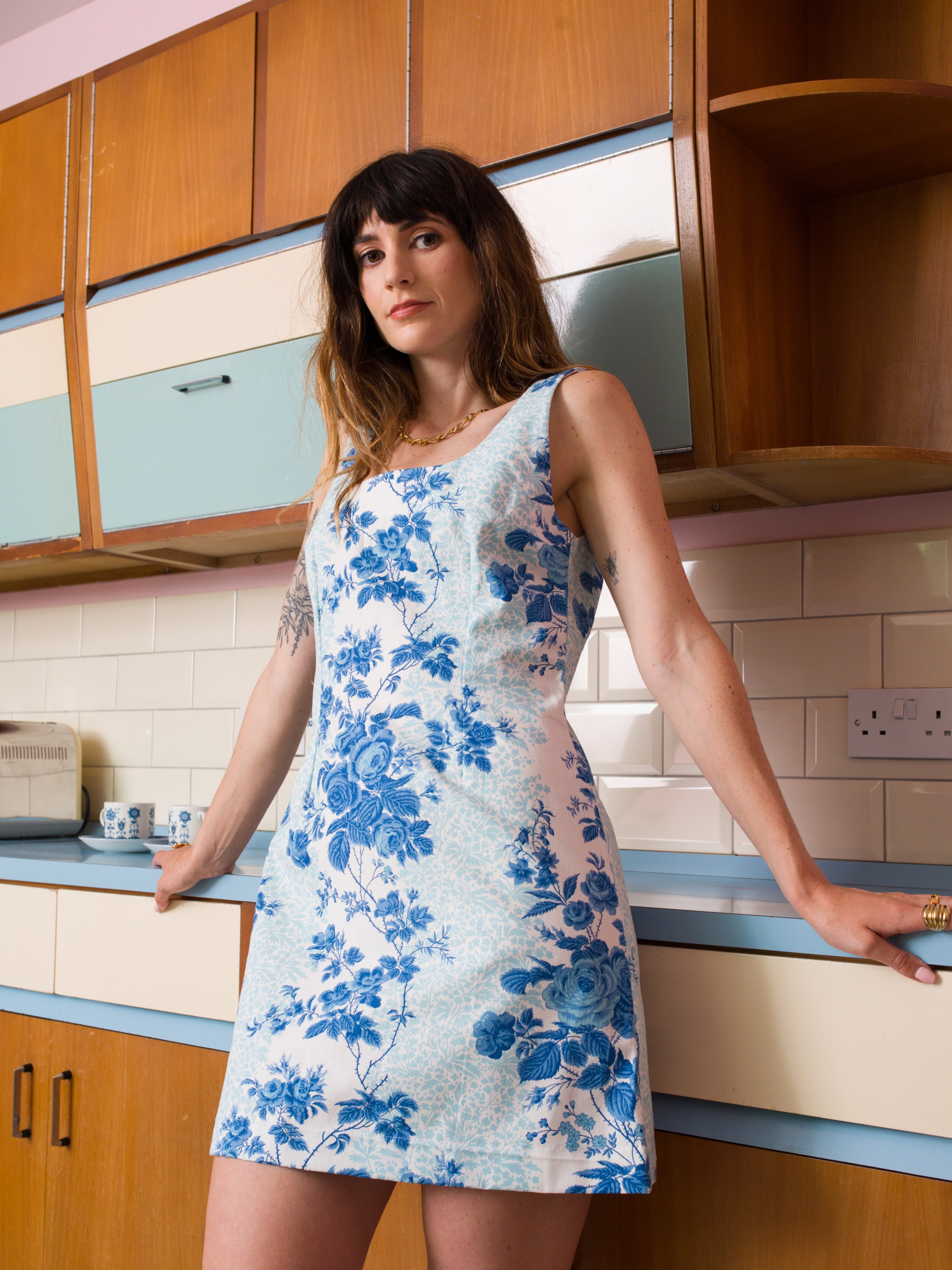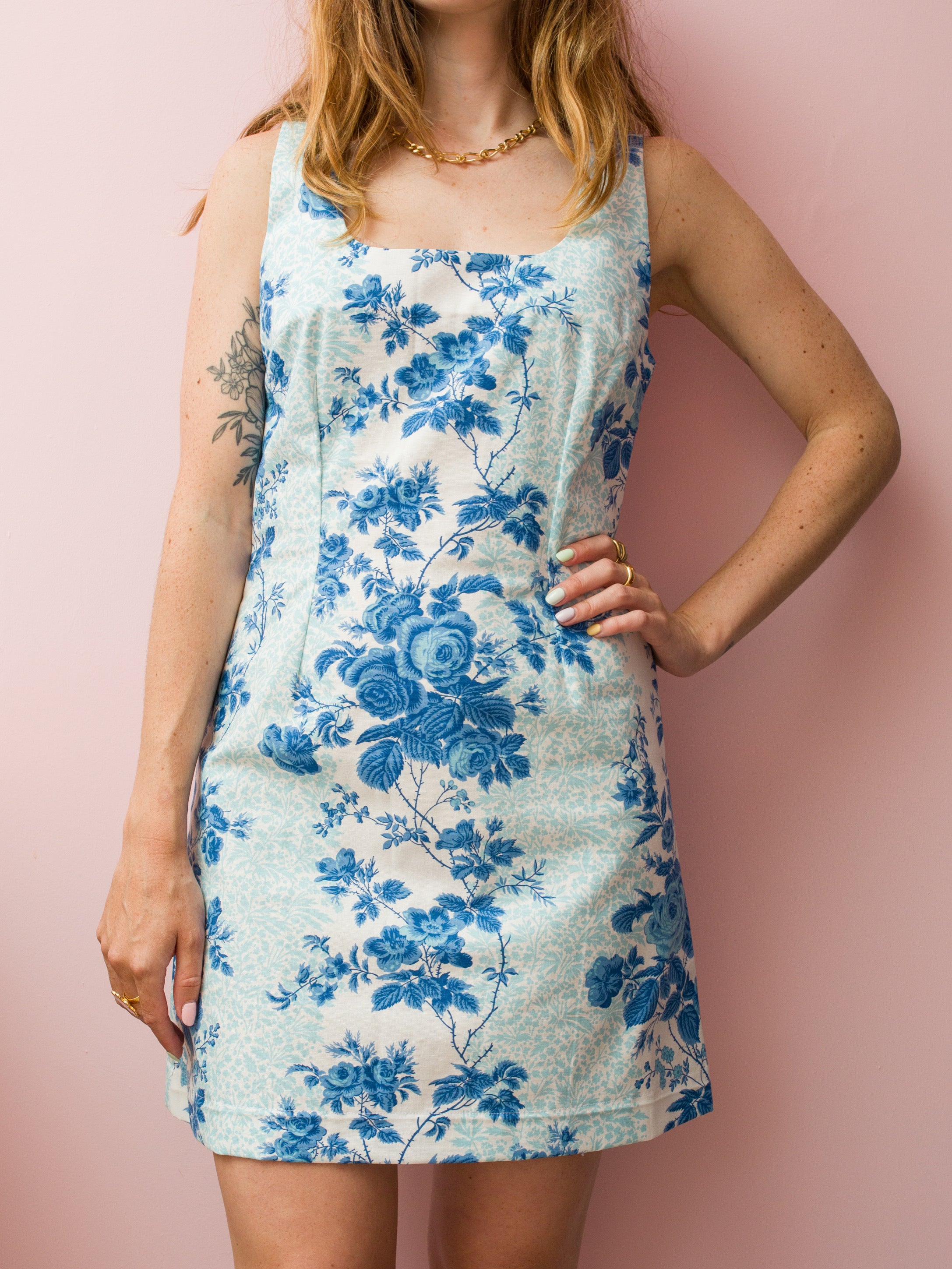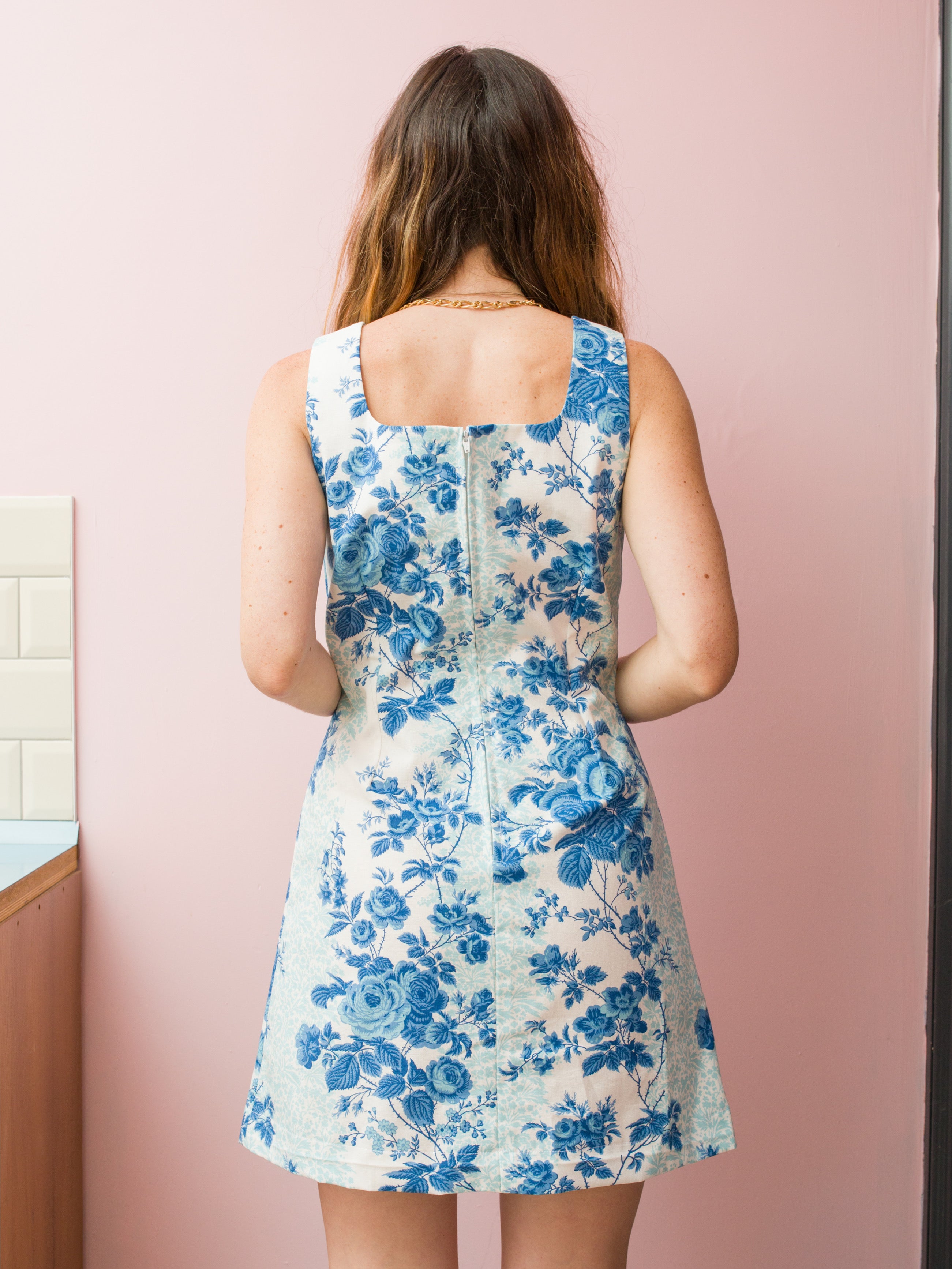 Blue Rose Botanical De'Ville Dress
Blue rose botanical dress. Part of the Botanical summer collection. Gorgeous blue rose design on a white base. This fabric reminds of the classic blue willow porcelain design. It's a lovely medium weight cotton blend fabric. Once lived life as a pair of curtains is now reworked into a De'Ville Dress. This is also available in our De'Ville Skirt design.  Sourced in the UK. Zip at centre back for fastening. Dress is unlined, finished with facing. 
De'Ville Dress Design update:
We've updated the classic De'Ville dress design slightly! We chose to adjust the neckline for our summer collection. All the dresses in the new 'Botanical' collection have a slightly lower neckline than the previous De'Ville dresses. Showing a little more skin to the gorgeous summer sunshine! 
De'Ville Dress: The De'Ville Dress is designed to be a piece in your wardrobe you know you'll feel good in every time you wear it! That trusty go to dress! It Is easily styled: can be worn on its own or layered over your favourite blouse. Pair it with tights and knitwear in the colder months. The effortless and flattering shape compliments every look. It is important to us at House De'Ville that you can get the most wear out of your wardrobe, focusing on sustainable and conscious shopping. Thats why we wanted to create a dress that is interchangeable for all seasons and we believe this piece is a wardrobe winner! Customers that have previously brought a De'Ville Dress have been back to buy a second & third as they have loved it so much! 
Details:
- Designed by Jemelia, founder of House De'Ville
- Hand made in Margate, England UK, by seamstress Katie
- Made from dead stock, vintage and found fabrics making them unique and 100% sustainable 
- De'Ville Dress features a square neckline. Fitted waist. Mini length - slightly longer than the classic mini length.
- Model UK size:
Daisy wears size UK 8. Daisy measurements: Bust 33.5" Waist 28" Height 5'7"
Made to order:
Our made to order dresses are priced on the amount of fabric needed to make your dress. Please select the made to order that suits you from the drop down list and add to your cart. Once check out has been complete you will receive an email within 24 hours from House De'Ville to discuss what measurements you require. Please refer to size chat below for measurements. If you wish for different measurements to our size chart, we are able to 'customise' your dress using your measurements for an additional fee of £10.00. If you wish to do this please let us know when we get in touch with you via email. Please note you cannot customise a 'ready to ship' dress. The length can be altered by 2 inches up or down free of charge, you do not need to 'customise' your order to do this. Please allow up to 3 weeks for made to order. If you need your dress sooner, please get in touch to discuss this and we will do our best to accommodate you.
Availability:  Two size UK 8 available and ready to ship. There is fabric available to allow for limited made to orders in sizes UK6-16. This fabric is dead stock vintage. Once its gone, its gone! 
Fabric:
Please remember that this is vintage fabric and has lived a life previously. There may be some signs of wear. We do our best to only source fabric in good condition, but sometimes there may be a few very small imperfections. We don't use any fabrics that have big stains or marks. Any noticeable marks will be described in the description.
Size Guide
| | | | | | | | | | | | |
| --- | --- | --- | --- | --- | --- | --- | --- | --- | --- | --- | --- |
| | | | | | | | | | | | |
| SIZE UK | 6 | 8 | 10 | 12 | 14 | 16 | 18 | 20 | 22 | 24 | 26 |
| BUST INCH | 33" | 34" | 35" | 37" | 39" | 41" | 43" | 45" | 47" | 49" | 51" |
| WAIST INCH | 26" | 27" | 29" | 31" | 33" | 34.5" | 37" | 39" | 42" | 44" | 46" |
| HIP INCH | 35" | 36" | 38" | 40" | 42" | 43" | 45" | 48" | 50" | 52" | 54" |
| NAPE TO HEM INCH | 34" | 34.8" | 35" | 35.8" | 36.6" | 38.5" | 39" | 39.5" | 40" | 40.5" | 41" |
If you require any quideance on your sizing please send an email to housedeville@outlook.com or drop a DM to instagram @housedeville